I rarely get Chinese takeout any more for various reasons, but I still love a lot of the dishes.  One thing I always used to see on takeout menus, but never ordered, was mu shu vegetables.  The idea of vegetables with an accompanying "pancake" fascinated me.  And as I was searching for something to do with the bok choy I bought on Monday, I came across a recipe for, you guessed it, mu shu vegetables in 30-Minute Vegan's Taste of the East.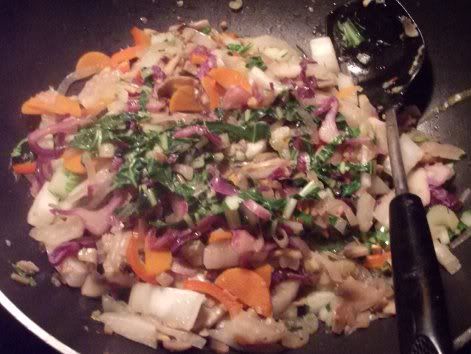 Wow, was there a lot to chop for this!  Garlic, ginger, onions, mushrooms, mixed vegetables, bok choy…I think it took me half an hour just to cut everything up.  But I'm not one to complain.  Kitchens were made for cooking, right?  And I love when stir-fry recipes call for a given amount of "chopped mixed vegetables."  That way I can open up the fridge and use whatever strikes my fancy and the dish never has to be the same twice.  This time I used red bell pepper, celery, carrots, and red cabbage.
The cooking method was simple and called for covering the veggies after each addition.  The flavor of the ginger and garlic cooked right in, and the natural moisture of the vegetables condensed to make its own sauce.  A lot of the recipes in Taste of the East call for a great deal of ginger, which makes them both flavorful and spicy.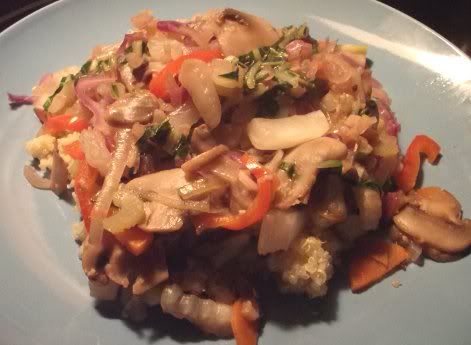 I didn't have any mu shu pancakes on hand, but the book suggested serving this dish over quinoa, which worked out quite well.  Rice is usually my stir-fry companion of choice, but the texture and flavor of the quinoa matched up with the overall taste of the vegetable mixture.  I do want to try the pancakes at some point, though, because I still find the idea intriguing.  I haven't the faintest idea where I'd buy some, but it seems like there are a lot of recipes floating around that would be fairly simple to make at home.
And speaking of things that are tasty, the fabulous Gone Pie hosted a giveaway this past week.  I'll admit to being some what of an Internet giveaway addict, especially when it comes to vegan goodies.  But when I entered this one for "a package" of Gone Pie goodies, I wasn't expecting to win such a glorious haul!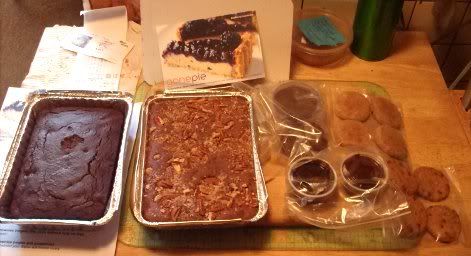 Triple nut brownies, pumpkin brownies, chocolate chip cookies, ginger cookies, a chocolate macaroon, a huge peanut butter cup…all I can say is, where do I start??  Thanks, Gone Pie!