After hearing all the buzz about the Happy Herbivore Cookbook, I popped over to Barnes & Noble and ordered myself a copy.  I wasn't disappointed!  It was love at first sight.  Full-color pictures and loads of low-fat recipes for stuff that I usually avoid like vegan mayo…I knew I had to give it a test run as soon as possible!
Not surprisingly, the first recipe that caught my eye was a one-pot deal: Chili sans Carne.  I've never met a vegan chili recipe I didn't like so, after verifying that I did indeed have all the ingredients on hand, I went to work.  It seemed like the perfect dinner to make after a day of listening to sleet slam against the windows.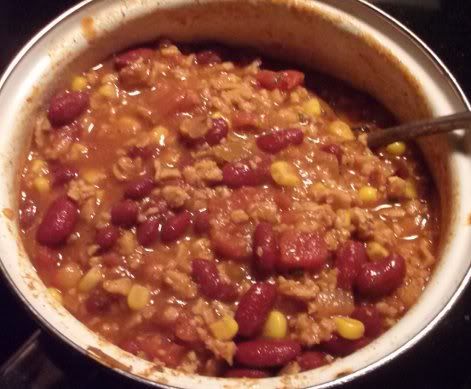 It turns out that the recipe wasn't hard at all!  The only thing that needed chopping was some onion.  All the other ingredients just needed to be measured and stirred in.  I especially liked the seasonings.  Mustard, ketchup, and maple syrup  along with standards like chili powder and cumin, made for a delicious, savory chili with just a hint of sweetness.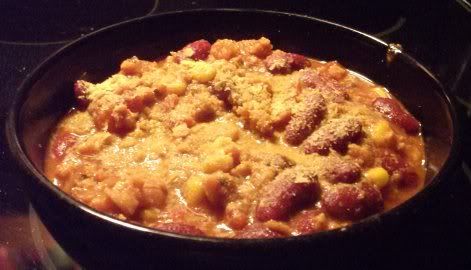 Instead of some kind of fake meat, there was TVP combined with a clever substitution for beef broth.  I haven't cooked with TVP in ages.  I must admit that I usually avoid recipes that use it because of some bad experiences in the past.  But the broth made all the difference in this chili.  There wasn't even a hint of the weird aftertaste that TVP can sometimes have.  Instead, it was chewy and flavorful, and complemented the other ingredients well.

All in all, a winning recipe!  I'm looking forward to trying a bunch more from this book.  There are several that caught my eye during my initial flip through, and I'm hoping to be able to make a few of them in the coming week.