I've been making a lot of things with white beans lately, but since the beans I have on hand right now are all 19oz. cans, I invariably have some left over.  So what to do with them before they languish in the fridge and develop that rather distressing "old bean" smell?  Why, make hummus, of course!
This hummus is an adaptation of two of my favorite hummus recipes: 30-Minute Vegan's Traditional Hummus and the white bean & dill hummus from 1,000 Vegan Recipes.  In my various forays into hummus making, I found that I like the balance of ingredients in the traditional recipe better, but also love the addition of dill.  So here it is, the amalgamated recipe!
Garlic-Dill White Bean Hummus
Ingredients
1 15oz. can canellini beans (about 1 1/2 cups)
2 tbsp. tahini
1 tbsp. olive oil
1 tbsp. lemon juice
2 garlic cloves, pressed
2 tsp. Bragg's liquid aminos
2tbsp. – 1/4 cup water, depending on texture preference
1-2 tbsp. dried dill, to taste
Directions
1) Dump everything in the bowl of a food processor.  You can put the garlic cloves in whole, but I've found that pressing them gives the finished product a stronger garlic flavor.  I also recommend starting with 2tbsp. of water to avoid a watery hummus disaster.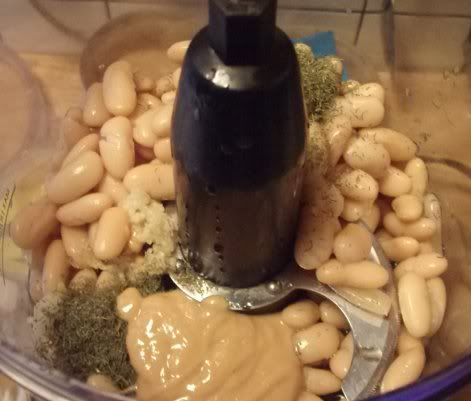 2) Process until smooth.  Taste and adjust the water and dill until the desired consistency and dill intensity is reached.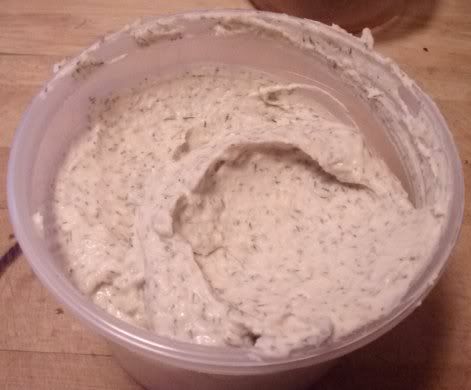 The white beans that I didn't make into hummus became a simple but unique pasta sauce, also from 1,000 Vegan Recipes. (I've been cooking from that a lot lately!)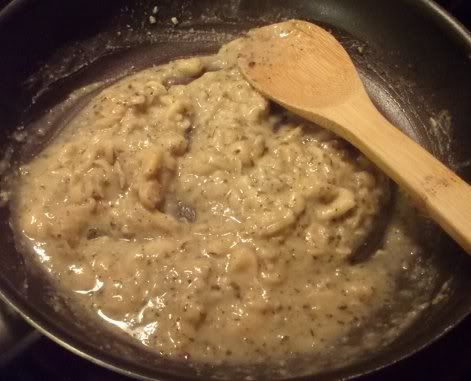 This was a very basic recipe containing only olive oil, white beans, basil, oregano, salt and pepper, and a bit of water.  I must admit the directions were a bit more vague than I'm used to from Robin Robertson's books.  The instruction to keep the bean mixture warm while cooking the pasta (I used whole wheat linguine) was a good one; the result was that the beans were very soft when the time came to make them into sauce.  However, the recipe only said to "add reserved pasta water" once the pasta was done and mix to "make a creamy sauce."  I wound up mashing the beans a bit with the back of the spoon and that seemed to work.  I also needed to add more water because the consistency was more pasty than saucy at first.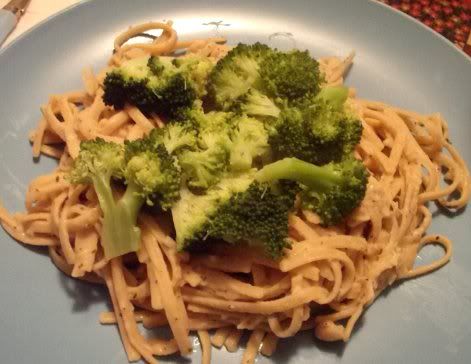 A little steamed broccoli on top, and ta-da!  A quick and easy meal.  The flavor of this was light and unique, which satisfied my pasta craving without being a standard tomato-and-noodle dish.  As I've mentioned in the past, I love pasta meals, and it's always fun to try something a little different.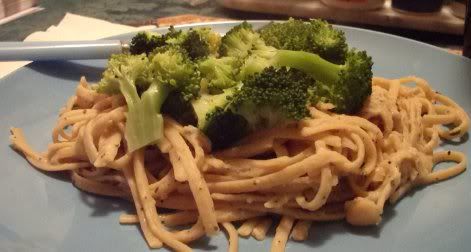 Question for the comments: What's your favorite way to prepare noodles?  (Any noodles!)