This is something I threw together over the weekend to make use of leftover black beans.  Initially I was going to make burritos, but then I thought about the tortilla bowl pans I've had for ages and went with that instead.  If you don't have pans in which to bake tortilla bowls (I got mine at a kitchen supply store), this makes a great filling for burritos or even served over rice or quinoa!

Quantum Tortilla Bowls (Or Wraps)
serves 4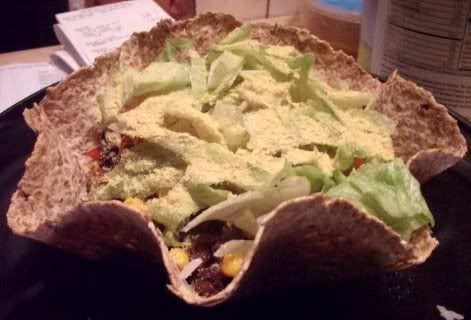 Ingredients
4 tortillas of choice (I like Ezekiel brand)
1/2 cup white rice
1 cup water
1tbsp. olive oil
1 medium onion, chopped
1 medium bell pepper, chopped (any color or a mix)
1 19oz. can black beans, drained & rinsed
1 cup fresh or frozen corn kernels
1-2 tbsp. chili powder, to taste
1 tsp. cumin
1/2-1 tsp. cilantro, to taste
1/4 tsp. black pepper
lime juice
hot sauce (optional)
garnishes of choice, such as:
chopped tomatoes
shredded lettuce
salsa
guacamole
vegan sour cream
nutritional yeast
shredded vegan cheddar
Directions
1) In a small covered pot, bring the water and the rice to a boil.  Reduce the heat to low and simmer for 15-20 minutes, until the water is absorbed.  When the rice is done, turn off the heat and let sit for 5 minutes.
2) While the rice is cooking, heat the olive oil in a skillet or saute pan over medium heat.  Add the onion and pepper and cook, covered, until soft, about 5 minutes.
3) Add the beans, spices, and lime juice and hot sauce to taste.  Cook for a couple of minutes to blend the flavors.
4) Add the corn and cook until heated through.  Taste and adjust seasonings.

5) What you do with the tortillas is up to you.  For wraps, place about one-quarter of the rice down the center of a warm tortilla and top with one quarter of the bean mixture and your choice of garnish.  Roll up and enjoy!
For tortilla bowls, grease four tortilla baking pans and press the tortillas into them.  Bake at 375°F for 8-10 minutes, until browned.  Remove from the pans and layer the fillings as for wraps.