Since the weather here has been continuing along the theme of "holy crap it's too cold to set foot outside," I found it necessary to make soup last night.
`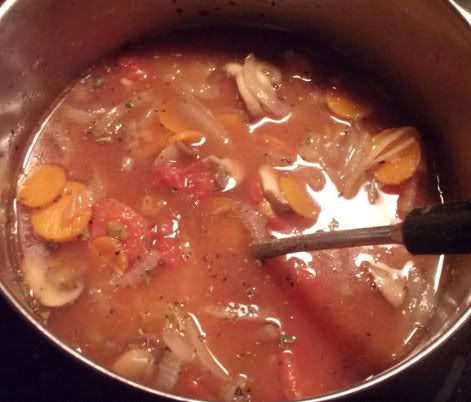 It's been a while since I cooked anything from Vegan Yum Yum, so that was the cookbook I went to in my quest for a recipe.  I was considering the black bean soup, but wound up settling on "Velvety Vegetable Soup" both for the tasty-sounding ingredients and the even tastier-looking picture.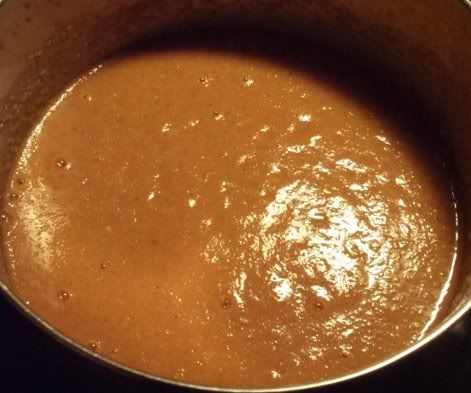 I've noticed that a lot of the instructions in Vegan Yum Yum's recipes are more vague than those in other cookbooks while the ingredient requirements can be oddly specific.  For example, this recipe calls for exactly 7 cremini mushrooms, but has only one timing suggestion over the course of the preparation instructions.  I didn't mind, though.  It gave the recipe some flexibility and let me take my time when cooking the veggies.  The combination of onions, mushrooms, carrots, and garlic smelled pretty amazing once it all started to cook down.  It also included a can of stewed tomatoes, some water, and a few spices.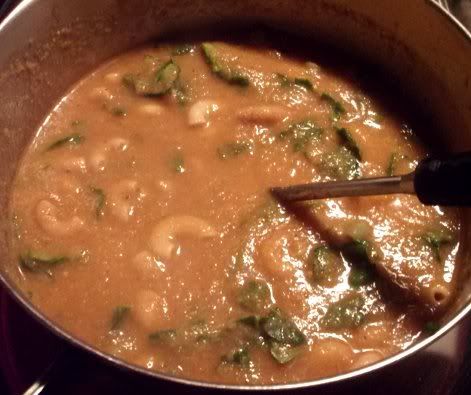 Lacking the suggested VitaMix (and the budget for one), I used an immersion blender instead.  The soup turned out thick rather than velvety, but I didn't feel the need to strain it.  I did, however, take the advice of the "optional mix-ins" list and add some spinach and tri-color elbow noodles once everything else was blended up.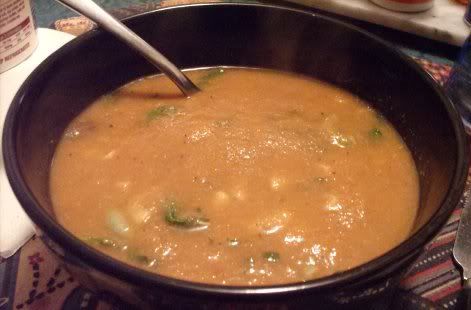 The result was a warming, hearty soup perfect for a day where the temperature didn't make it out of the teens.  I'm a big fan of soups that are a meal in themselves, and there wasn't a lot that had to be added to round this one out.  Half a toasted English muffin and some Daiya did the trick!