The last time I went out for Indian food, I ordered aloo saag.  And I pretty much haven't been able to stop thinking about it since then.  I love potatoes, I love spinach, and I love curry…and since aloo saag is curried spinach and potatoes, what's not to like?
I finally had all the ingredients together this week, so I jumped at the chance to make some at home from the recipe in 30-Minute Vegan's Taste of the East.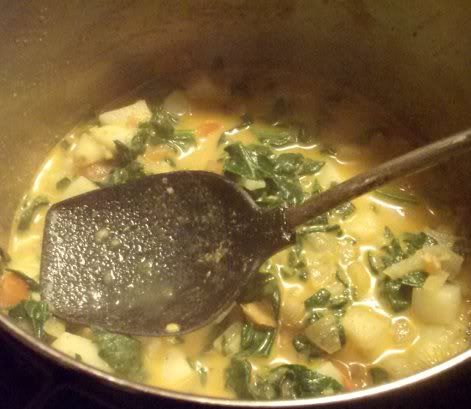 Despite the lengthy appearance of the ingredient list, it was pretty simple to make!  The chopping took longer than the cooking.  And since the first step was to toast the spices in the pan, the kitchen started to smell amazing almost immediately.
To go with it, I flipped back a couple of pages to the recipe for rice pilau.  Again, I love rice and I love stuff you can cook in one pot, making it another win-win recipe.  I added carrots, celery, and peas as per the recipe suggestion to make it more substantial.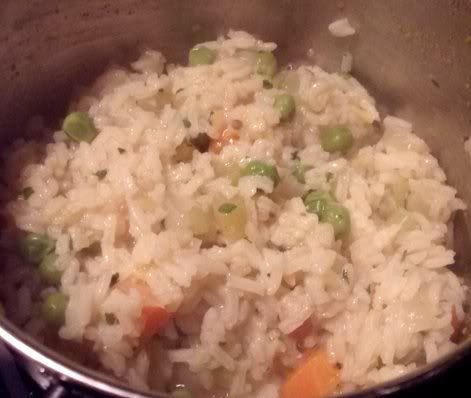 If it looks excessively fluffy, that's because goofed a little with this one.  The aloo saag serves four and the pilau serves six, and since I was only cooking for two people, I was trying to divide one recipe in half and the other by thirds at the same time.  I did okay right up until the point of adding broth to the rice, when my brain must have skipped a bit because I wound up putting in two cups instead of one and a third.  So the pilau was a bit on the wet side, but boy did it taste good!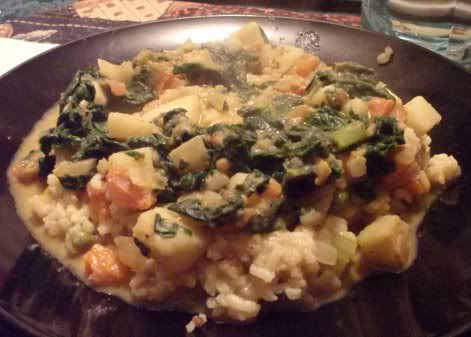 My only problem with the combination was that there was so much ginger collectively between the two dishes that I actually started to get warm after eating.  It definitely wasn't enough to ruin the dinner experience or turn me off from making it again, though.  The flavor was fantastic; very close to what I got at Shalimar.  Next time I'll cut down on the ginger a little and aim for the right amount of liquid in the pilau!
As a side note, we're almost out of green tomato chutney, a situation which will have to be remedied sometime in the near future…