I love a productive day in the kitchen!  One of the best parts of working from home, in my opinion, is being able to take advantage of the flexible schedule to cook and bake during the day.
I've had my eye on the Pumpkin Pie Brownies recipe in Vegan Cookies Invade Your Cookie Jar for a while now.  I'll confess that I'm not world's biggest pumpkin pie fan.  I like the spices and I like pumpkin, but for some reason putting them all together in a pie has never been my favorite thing.  I do, however, love chocolate.  And unique recipes.  And desserts.  Since this recipe has all three, I decided to give it a try.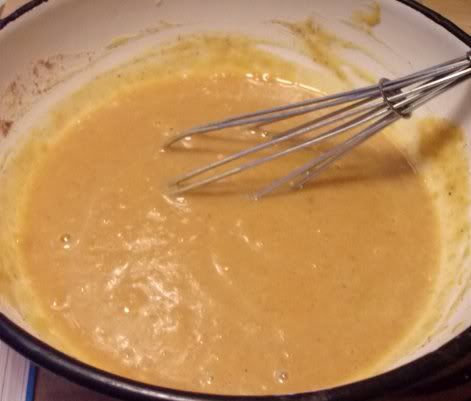 Both the batter and the pumpkin filling were easy to prepare.  I had a can of organic pumpkin that I picked up at the co-op after Thanksgiving, and it wound up being just enough for the recipe.  There's pumpkin in both layers, and not one, but two kinds of chocolate in the brownie layer!  Melted bittersweet chocolate and baking cocoa…mmmm.
I did learn the hard way that the brownie layer should be spread in the pan before you mix up the filling.  When I went to assemble both, the brownie batter had started to harden and I had to pop it in the microwave to soften it back up.  It didn't seem to suffer any ill effects!  I suspect it was just a function of the arrowroot powder thickening the batter or the melted chocolate re-solidifying.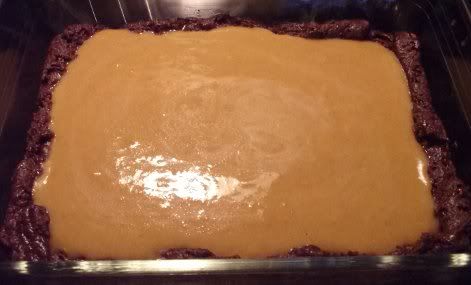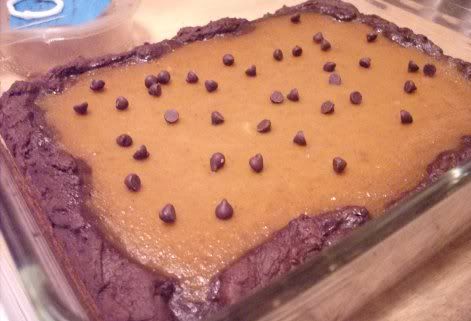 Isn't it a neat color combination?  I probably could have baked it a little longer (the recipe suggested waiting for cracks to appear around the edges of the filling), but I got impatient and was worried about drying the brownie layer out.  It turned out just fine, though, and set up nicely in the fridge overnight.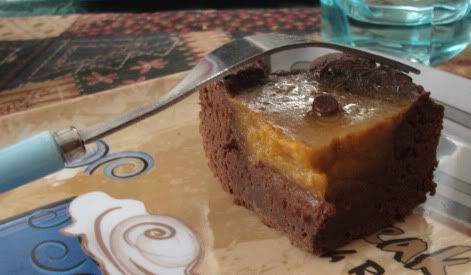 The only thing about having to wait for stuff to set is having to wait to eat it.  The verdict?  Totally worth the wait.  The brownie layer is moist, the pumpkin filling is perfectly spiced, and the flavors together are far superior to regular old pumpkin pie.  My mom loved them, too…perhaps there's a new favorite seasonal treat in the house?
Question for the comments: What's your favorite strange or unusual treat?