Let's face it, even as vegans we sometimes crave old omni comfort food.  Like broccoli smothered in cheese sauce, right?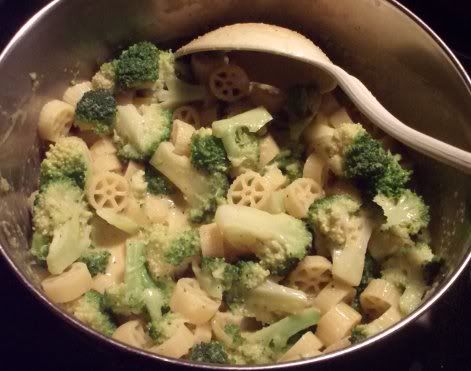 Fortunately for us (and as I'm sure you're sick of hearing me mention), Robin Robertson is a genius across cuisines and provides a bunch of various mac and cheese recipes in 1,000 Vegan Recipes. A few nights ago, I made her broccoli, potato, white bean, and walnut concoction from the same book and had some broccoli left over, and so when I went looking for another pasta dish to bake, the recipe for broccoli and shell pasta in a cheese sauce caught my eye.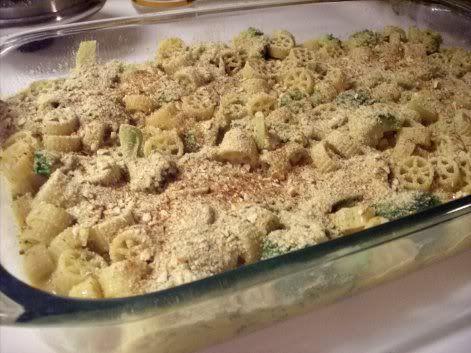 I didn't have any little shells, but I did have some adorable Barilla Piccolini wagon wheels.  (Who else loves tiny pasta shapes?)  The recipe was incredibly easy, using only the pasta, broccoli, a little salt and pepper, and a cheese sauce recipe from further back in the book.  Even that was simple enough and only took ten or fifteen minutes to put together.  It was a pretty standard nutritional yeast/broth/non-dairy milk concoction that smelled remarkably cheese-like while it was heating up.  To bake, everything got mixed together, dumped in a casserole dish, and topped with some 30-Minute Vegan pretzel crumbs I had around in lieu of bread crumbs.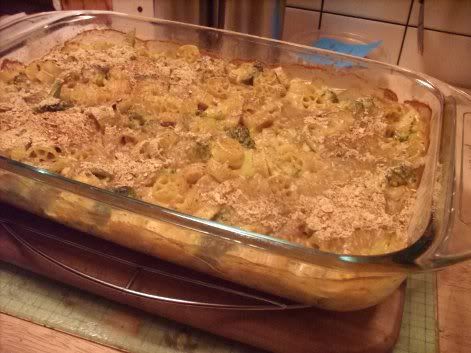 As a side note, that pretzel crumb recipe is amazing.  It's nearly impossible to find vegan bread crumbs around here!  Since I love pretzels anyway and there are always bits hanging around at the bottom of the pretzel bag, I whip up a batch from time to time and use it whenever a recipe calls for bread crumbs.  It makes great tempura batter, too, which is where the recipe is suggested in the cookbook.  Though this batch was a little on the salty side, it worked fine in this recipe, making for a delicious, crispy topping to the bake.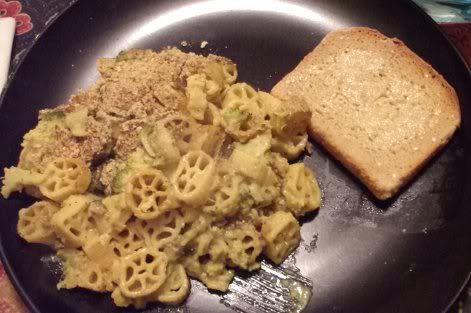 The overall flavor of this is mild enough that you could put pretty much any veggies you wanted in it and have it taste amazing.  Bell peppers would go good with the broccoli, or cauliflower.  Peas and carrots would work, too, or even leafy greens.  Or you could make it without any veggies at all and have a pretty smashing side dish for a potluck.  As it was, it made a hearty, comfort-food meal that had my mom, brother, and I all going back for seconds.  And I don't do seconds, so that should say something about how good it was!