Have I mentioned at any point how much I adore anything jerk spiced?  In case I haven't (or even if I have)…I love jerk spice.  The blend of sweet and hot gets me every time.  If a recipe declares itself to be jerk-spiced, chances are good that I'll pounce on it.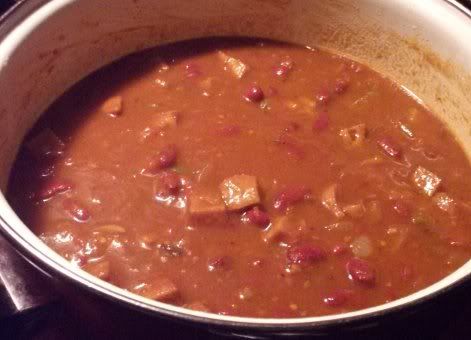 Such was the case with this, tonight's dinner, a jerk-spice chili recipe straight out of 1,000 Vegan Recipes.  I knew I wanted to make chili of some kind and was initally thinking of going back to the 30-Minute Vegan "Put the Tex in Your Mex" chili since I was in the mood for seitan.  But then the unique ingredients list of this recipe caught my eye and I was hooked.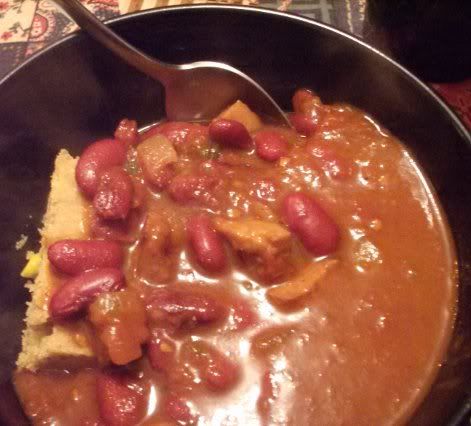 Red beans, seitan, crushed and diced tomatoes, and onions seasoned with barbecue sauce, salt, pepper, allspice, cayenne, chili powder, oregano, cumin, and a little agave nectar and liquid aminos instead of the sugar and soy sauce the recipe called for…all together in one pot.  There are no words for how amazing the house smelled while this was simmering.
An added bonus was that there were still some canned tomatoes left from our garden, so I was able to use those instead of store-bought diced tomatoes.  I even had a jar that I'd thought to can together with garden-grown hot chilies, which worked out well since the one thing the recipe called for that I didn't have was a jar of chilies.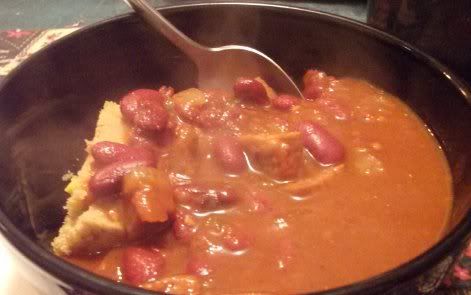 I whipped up one of the cornbread recipes from the same book to go along with the chili, and it was amazing.  This particular cornbread has corn kernels in it and is sweetened with maple syrup, which was a perfect compliment to the chili's spiciness.  It was a nice, hearty meal for yet another freezing cold day.
Question for the comments: Is there a flavor or spice that you love enough to try just about any recipe that includes it?