Happy birthday, happy birthday, whoop-dee-doo, whoop-dee-doo…
Anybody else remember that Binky the Clown birthday song from Garfield & Friends?  A friend of mine posted it on my Facebook wall a couple of years ago, and now I think about it every time my birthday rolls around.
Yep, it's my birthday today.  The Quantum Vegan is a year older, hopefully wiser, and definitely in need of a way to stop these "birthday" things from coming.
It also happens to be my mother's birthday, as well, and when I asked her if there was anything in particular she wanted for a birthday dinner, the answer was simple: pasta.  Of course, being the rabid foodie that I am, I couldn't leave it at that.  It couldn't just be pasta; it had to be special pasta.  And when I think of special pasta, baked ziti immediately comes to mind.  My family ate a lot of baked pasta dishes when I was younger, and I still have a soft spot for them.
This recipe is a vegan adaptation of my mom's tried-and-true baked ziti recipe.  You can play around with it any way you like–use different pasta shapes, dump in some veggies, even add beans instead of sausage.  For my birthday dinner, I aimed for nostalgia and the baked ziti I remember from my pre-vegan days.
Birthday Vegan Pasta Bake
serves 4-8, depending on how hungry people are
Ingredients
8 ounces pasta shapes (ziti, penne, spirals, wagon wheels–whatever you love!)
1 1/2-2 cups vegan ricotta (I like Veganomicon tofu ricotta, but you can use any recipe you like)
2 cups pasta sauce, homemade or storebought, preferably something chunky
2 links vegan sausage, sliced & cooked
1 cup shredded vegan mozzarella (Daiya is my favorite)
Optional add-in: up to 2 cups lightly steamed veggies of your choice.
Directions
1) Preheat the oven to 400°F.  Ready a 11×7 casserole dish and lightly oil it if desired.
2) Cook pasta according to package directions.  Drain well and dump it into the casserole dish.
3) Pour the sauce over the pasta.  Add the tofu ricotta, cooked vegan sausage, and veggies (if using), and mix well.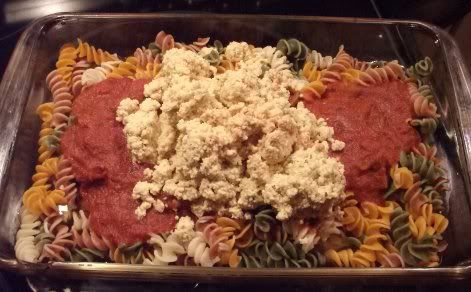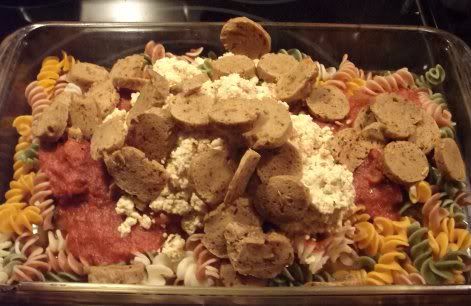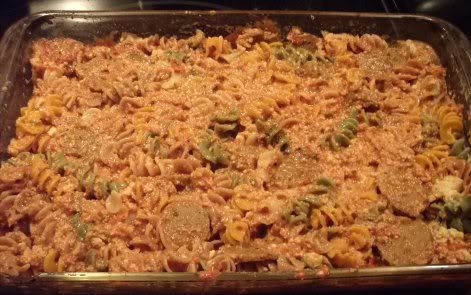 4) Top the whole dish with the shredded vegan cheese.  Cover tightly with foil and bake until hot and bubbly, about 30 minutes.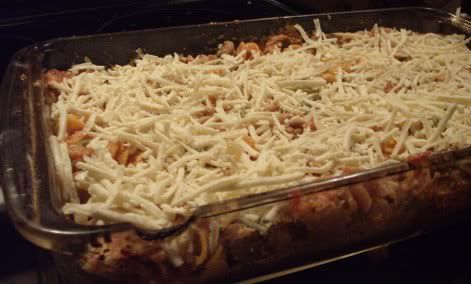 5) Remove the foil and cook for 10 minutes more, uncovered, to finish melting the cheese.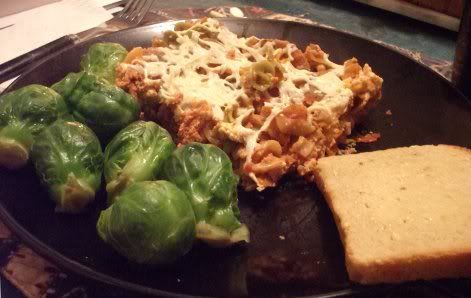 And what birthday is complete without cake?  As a special treat to both my mom and myself, I trekked over to X's to O's Vegan Bakery this afternoon and discovered that the cake of the day was…German chocolate!  What a great way to cap off a birthday meal.  (Plus since it was my birthday, I got a free baked good and a high five.  It made this whole "birthday" thing a little more bearable!)