With my brother home for the holidays, I've been breaking out the big red "one-pot meal" pot more often.  I could probably cook a new one-pot meal every night for a year and never get sick of them.  I love being able to toss a bunch of well-balanced ingredients in a pan, leave them to cook, and only have to prepare a grain or small veggie side to round everything out.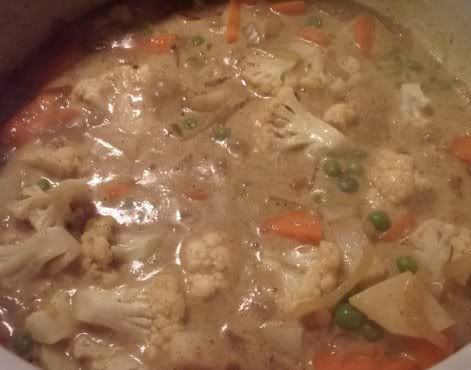 The first endeavor this week was another shot at the Madras curry from 30-Minute Vegan's Taste of the East.  The last time I made it, it was too spicy, almost to the point of being inedible.  This time around was a bit better, though I got impatient and served it before the veggies were as soft as I was aiming for.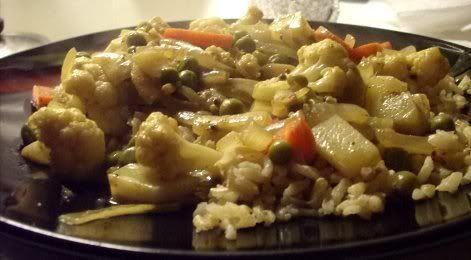 Despite that, the flavor didn't suffer.  I could have stood it a little hotter, but it still had an appreciable kick.  The spice combination makes up literally three quarters of the recipe's ingredient list!  I used cauliflower, carrots, potatoes, and peas as the veggies and served it over brown rice spiced a little bit like the Rice Pilau recipe from the same book.  I was especially excited because I finally had coconut oil on hand to cook the vegetables in.  I love the smell and the light flavor it lends to a dish.  However, there are several other curry recipes in other cookbooks that I like better, so I don't think I'll be making this one again any time soon.
Next up, yet another chili recipe by…you guessed it, Robin Robertson!  "Very Veggie Chili" from Vegan Planet: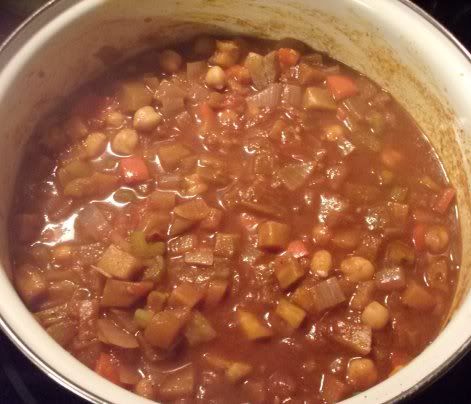 I woke up this morning with a terrible craving for something with chickpeas.  Then I started thinking about chickpeas and eggplant.  At first I thought maybe I wanted to break out the recipe for Moroccan chickpea stew, but then I found this one while flipping through cookbooks and knew I had to have it!

Garlic, red onion, celery, jalapeno, diced tomatoes, eggplant, and chickpeas spiced with chili powder, allspice, and molasses in tomato paste.  It's a unique combination that turned out to be very, very tasty over couscous!  We didn't have any celery or eggplant on hand so, despite the fact that it takes longer than is practical to get to the grocery store for a "short trip," I made a special outing in order to fulfill my chickpea/eggplant craving.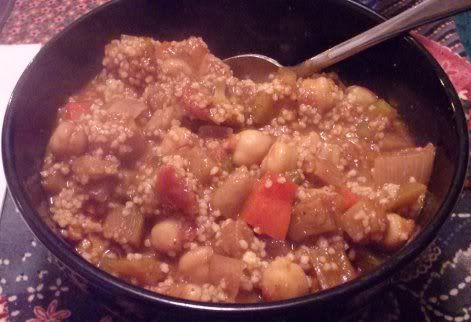 I'm very glad I did.  I'm a huge fan of chili and this is official a new favorite recipe.  It's just different enough from the other chilis I like to set it apart, and the level of spiciness was just right.  I'm sure it'll be even better when local eggplants are in season again.
Question for the comments: Do you have a favorite or "go-to" one-pot meal recipe?