Ever have one of those nights when you just HAVE to have a burrito?  When I first went veg, I ate a ton of burritos and quesadillas.  They're versatile and relatively quick to prepare, and pretty darn good as far as nutrition goes.  Sometimes when I'm feeling lazy I even use canned vegan refried beans, but since those tend to be full of salt I try to avoid them for the most part.
I don't remember where I first learned to make my own refried beans.  It might have been from The Clueless Vegetarian by Evelyn Raab, which was what got me started on my veg journey when I wasn't sure what to cook and is still a good book for a quick recipe now and then.  This refried bean filling is similar to those first forays into the world of vegetarian Mexican food.  Again, it's hugely versatile.  Pinto beans would work just as well, and you could add chopped jalapenos or chiles instead of the chili powder.  (Incidentally, if you come up with a version you like better, let me know so I can try it.  I love new burrito recipes!)
Easy Refried Bean Filling
serves 2
Ingredients
1 tbsp. olive oil
1 garlic clove, pressed or minced
1/3 cup onion, chopped
1/2 cup bell pepper, chopped
1 15oz. can dark red kidney beans, drained (reserve the liquid)
1-2 tbsp. chili powder, depending on preference
1 tsp. ground cumin
pinch oregano
salt & pepper to taste
Directions
1) Heat the oil in a small skillet over medium heat.  Add the garlic, onion, and bell pepper; cover and cook until softened, about 5 minutes.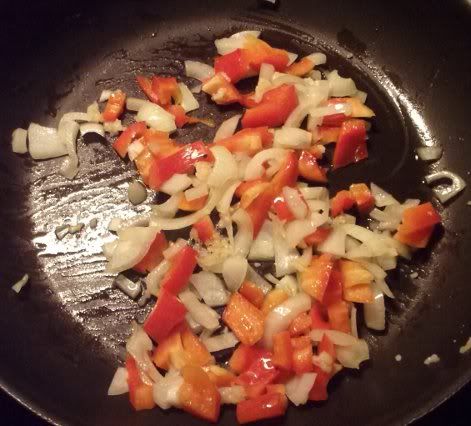 2) Add the beans and a bit of the reserved liquid.  Mash the beans with the back of the spoon until the desired consistency is reached, adding more liquid as needed.  (A wooden spoon works well for this.)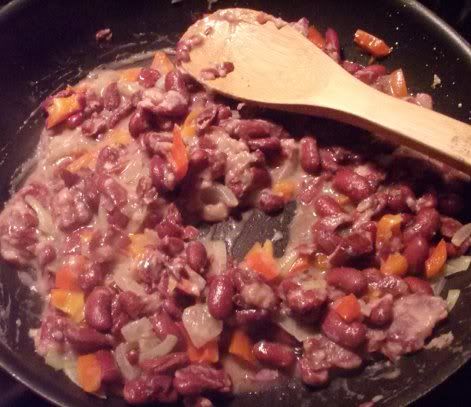 3) Add the seasonings, stir, and heat through.
This makes a great filling for burritos or quesadillas.  You could probably also make it a bit thinner and serve it as a dip if you so desired.  I like to spread it on tortillas, fold them in half, and bake them at 350°F for about 10 minutes before loading them up with tomatoes, shredded lettuce, salsa, and "cheese" sauce!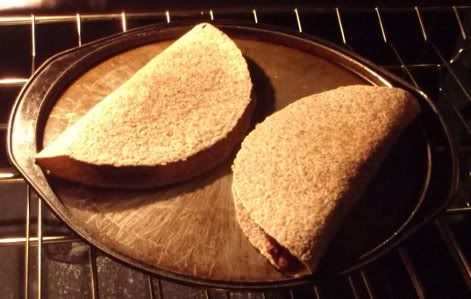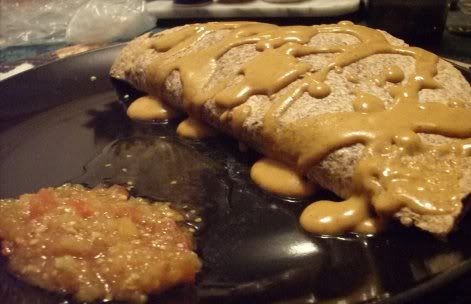 Question for the comments: What food(s) did you eat the most of when you first went vegetarian or vegan?  Are they still favorites?