I did not, in fact, eat noodles for New Year's Eve, but I did have them a couple of nights previously.  In case I've failed to mention it, I love noodles.  Noodles of all kinds are awesome.  Spaghetti, linguinie, flat rice noodles, thin rice noodles, and my favorite of all…soba noodles.
Whenever I can, I pick up a package of soba at the grocery store.  I got extra lucky this month and the co-op had them on sale in bulk, so I grabbed a handful and started searching for a soba recipe I hadn't made before.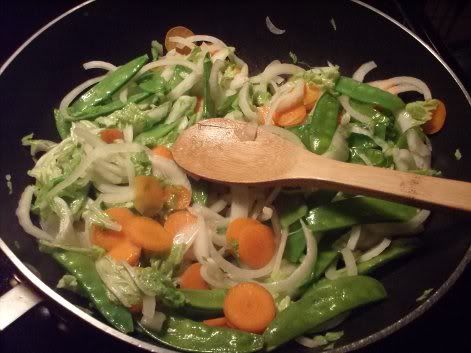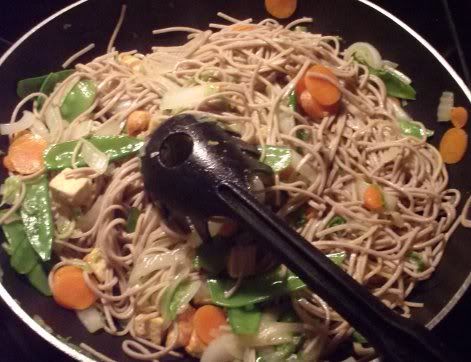 1,000 Vegan Recipes won out again with a sesame soba recipe.  As Asian noodle recipes go, it was pretty basic, but the combination of veggies wasn't one I had tried before.  Napa cabbage, carrots, snow peas, and onions along with a little ginger and sesame oil made for a tasty combination.  The veggies were cooked just enough to be soft, but not so much that they lost their crunch, which was especially nice when it came to the snow peas.  Before cooking the veggies, I stir-fried a little tofu to round out the meal.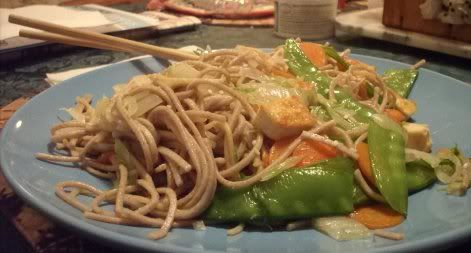 I didn't have quite enough soba and had to supplement with some thin whole wheat spaghetti, but it wasn't impossible to notice.  This dish had a nice, light flavor that was complimented well by some kimchi on the side.
Speaking of whole wheat spaghetti, who else is a sucker for Asian fusion dishes?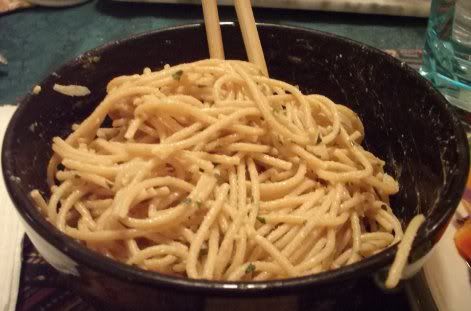 On Wednesday I had a night where I was only cooking for myself, so I decided to give Vegan Bites a try.  My mom got it for me for Christmas, and I can already tell it's going to be a lifesaver on nights when I'm cooking for one or two and don't feel like having to cut down a big recipe.  Everything in the book is geared for singles, with the biggest recipes making four servings with the idea of having some leftovers for quick reheating.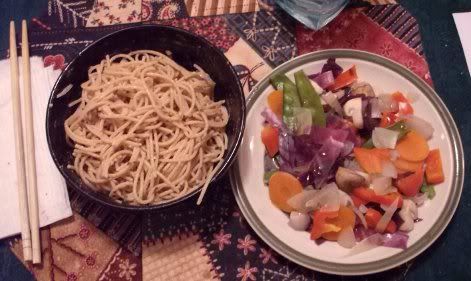 I perused the "Better Than Takeout" section and came across a recipe for peanut noodles.  There are no words to express how much I love peanut noodles.  Any cookbook with a recipe for them is immediately endeared to my heart.  This recipe was quick and easy, and tasted exactly like takeout without any of the garbage.  Even though I didn't have any green onions to garnish the noodles with, the flavor was still fantastic.  As a side I just steamed some veggies, drizzled on a little liquid aminos, and enjoyed a very tasty meal!
And that's the end of my adventures in noodles for the week.  I hope you all have a happy, healthy new year full of joy and new vegan adventures of your own! 🙂