Nothing says soup like winter in upstate NY.  It's been a sort of subconscious goal of mine this season to try as many new, warming recipes as possible, and soup definitely fits the bill!
Over the last week or so, I cooked up two soups from 1,000 Vegan Recipes.  (In case you haven't noticed, I adore that book!)  The first came about in one of my infamous quests to find something to do with veggies I bought on sale–in this case, collard greens.  I've been wanting to try them for a while and wound up grabbing a big bunch for all of nine cents.  Yep, you read that right, nine whole cents.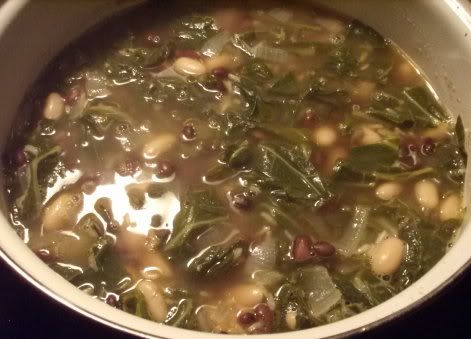 Of course it turned out to be a great deal and made a spectacular soup.  This particular recipe called for collards, rice, and black-eyed peas.  Lacking the latter, I used a mixture of black beans and white beans, which tasted quite good!  My mom and I added a little bit of hot sauce to our servings as suggested by the recipe.  It was an amazing soup experience.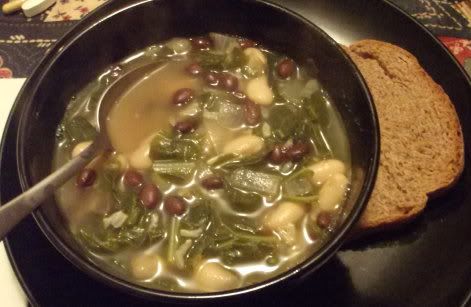 The second recipe was a bit more unusual, but I'm glad I got adventurous and tried it.  The title, Peanutty Two-Potato Soup, piqued my interest.  And since we had both white potatoes from our garden and sweet potatoes from (yet another) recent produce sale, I decided to give it a shot.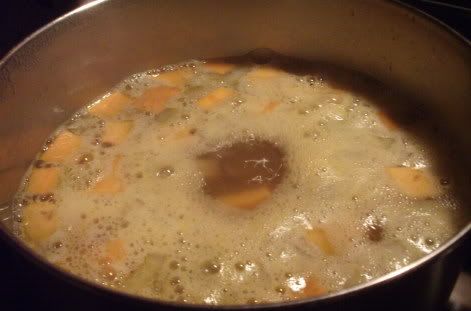 Who knew that peanut butter in soup could be so delicious?  The soup itself was very basic; just onions, a little celery, broth, and the two kinds of potatoes.  But the clincher was a half-cup of peanut butter added at the end after blending the soup.  (Of course I was quite excited about that bit, since it meant getting to play with the immersion blender again.)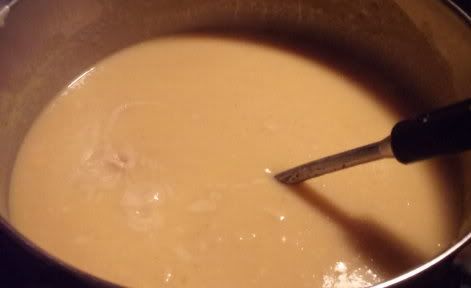 This was obviously a very rich soup, so I wouldn't make it all the time.  But it was just what my family needed after a long, snowy day!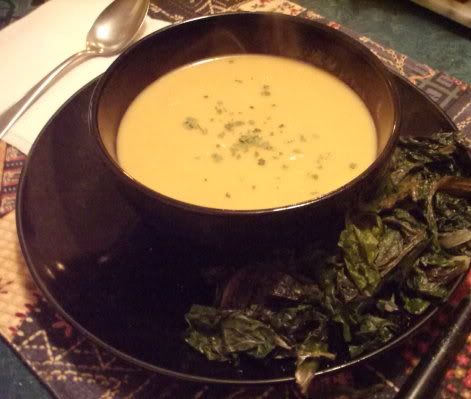 Speaking of snow, who else got slammed on Monday?  I think we got over a foot…