What great holiday is complete without great food and treats?  As I've mentioned, I love holiday cooking and baking, and Christmas is my favorite holiday of all.
My mom's side of the family is Italian, and so it's a long-standing tradition that we have pasta of some kind for Christmas dinner.  Usually it's lasagna, and this year was no exception.  While my mom put together a traditional lasagna for herself and my brother (using the sauce I made), I decided to play around with the lasagna pinwheel recipe from 1,000 Vegan Recipes.  For filling, I made some tofu ricotta using the recipe from Veganomicon and invested in a little bag of mozzarella-style Daiya.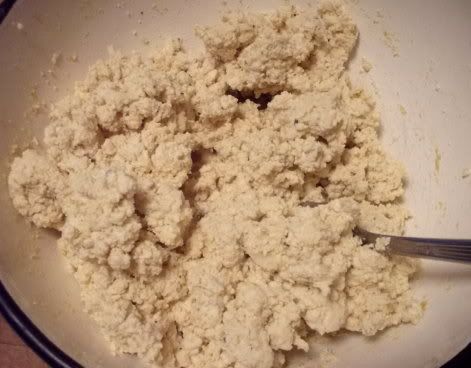 Armed with that and some whole wheat lasagna noodles, I took a crack at adapting the original recipe.  It's extremely versatile, so if there's something you like in your lasagna and you can fit it into the rolled-up noodles, go for it!  Vegan sausage, cooked spinach, or even shredded zucchini would make great additions.
Lasagna Pinwheels
inspired by 1,000 Vegan Recipes
serves 4
Ingredients
10-12 lasagna noodles, cooked according to package directions
2 cups of your favorite vegan ricotta
2 cups pasta sauce, homemade or store bought
1 cup shredded vegan mozzarella
Directions
1) Preheat the oven to 350°F.  Lay the lasagna noodles out on a flat surface.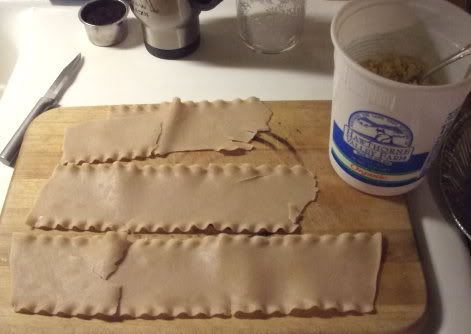 2) Spread about 3tbsp. of vegan ricotta out on each noodle.  Top with some of the shredded mozzarella.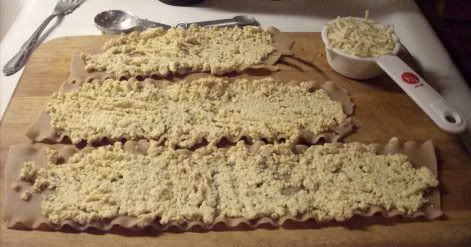 3) In a large baking dish, spread a thin layer of sauce. (I used an aluminum pie pan since I was only making these for myself.)  Carefully roll each noodle up and place it in the dish, seam side down.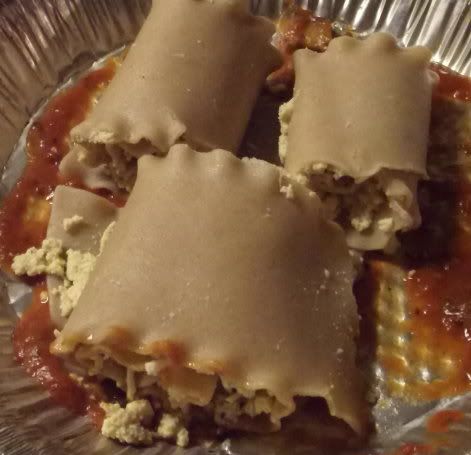 4) Top the rolls with the remaining sauce and the rest of the mozzarella.  Cover with foil and bake until heated through, about 30 minutes.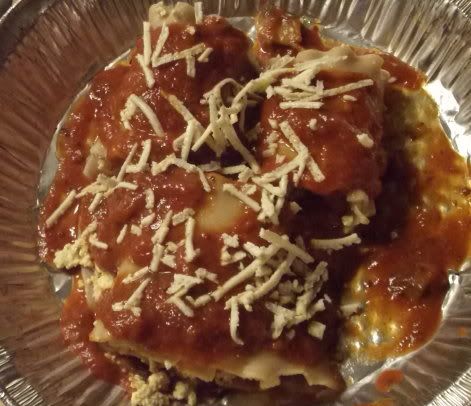 5) Remove foil and bake for a couple minutes longer to finish melting the cheese, if desired.  Serve hot with your choice of sides.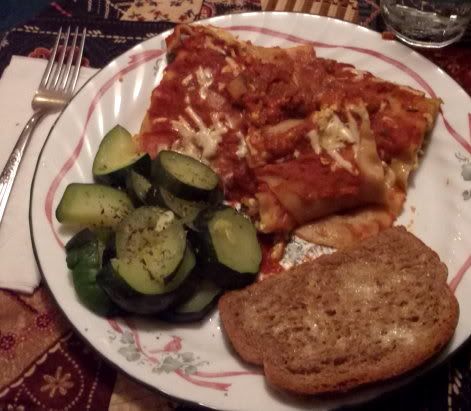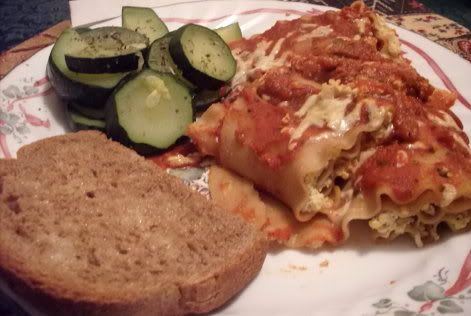 Even my guinea pigs got in on the Christmas food action!  I usually stick to small stuff or raw veggies when I give them treats, but this year I splurged and got them a "Snak Shak"…100% edible and a heck of a place for them to hide when they're feeling antisocial.
Speaking of treats, I've been trying to put together a vegan peppermint mocha for a few weeks now, and on Christmas Day I think I finally got it!  This is more of a cobbling together of flavors than a recipe, but I thought I'd share because it was so darn good.  I used to be kind of addicted to coffeehouse-style drinks, and this came very close to the taste of some of my old favorites without having to use funky flavor syrups.
Candy Cane Mocha
serves 1
Ingredients
2-4 oz. freshly-brewed espresso, depending on how much coffee flavor you want
6 oz. Creamy, Rich Hot Cocoa (from VegWeb)
1 organic candy cane (I like Pure Fun brand)
vegan whipped topping
Directions
Combine the espresso and hot chocolate in a large mug.  (If you prefer sweeter coffee, you may want to add a bit of your favorite sweetener to the espresso first.)  Top with the desired amount of vegan whipped topping and hang the candy cane over the edge.  Wait a bit for the candy cane to melt into the mocha, or enjoy right away!
I hope everyone had a very merry and blessed Christmas.  I don't know about you, but I'm looking forward to a new year of vegan adventures!