'Tis the season for baking!  As I've mentioned, I love cooking and baking all year 'round, but Christmastime really puts me in overdrive.  Christmas has always meant a flurry of special cookies, snacks, and dinner dishes in my house.  This year has been a little lighter in the cookie department (though no less delicious), but that doesn't mean I haven't been busy baking other things!
Yesterday I was struck with the need–yes, need!–to make a loaf of bread from scratch.  A tweet from cookinvegan caught my eye on Monday night, and I was reminded of how darn good homemade bread is.  My mom used to make an amazing crusty Italian bread that I would inhale straight out of the oven when I was younger.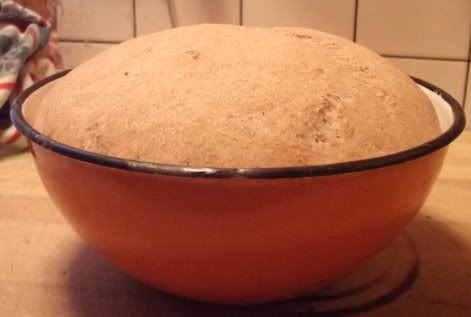 This time, I wanted something more sandwich-friendly.  I knew there was a recipe for whole wheat bread in The Joy of Vegan Baking, and once I found that, I was off and running.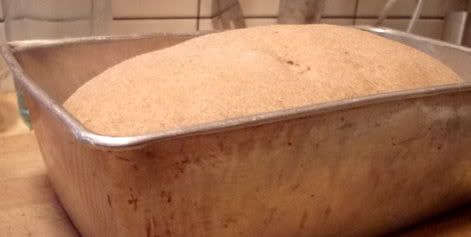 The recipe itself is very, very easy.  Just flour, water, yeast, and a little agave nectar and viola!  You have yourself some bread dough.  Like all bread, though, it's a labor of love.  After ten minutes of kneading by hand, an endeavor which was well worth it, this stuff needed a little over four hours of total rising time.  I put a fire in our wood stove to give it a nice warm place to rise and, as you can see, that worked out very well!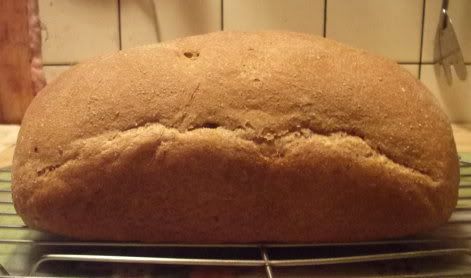 The recipe called for between 55 and 70 total minutes of baking, and my loaf took about 65 to come out crusty with that telltale hollow sound when you knock on the bottom.  By that point, the entire house smelled amazing, and it was all I could do not to sit down with the loaf and dig in Medieval -style!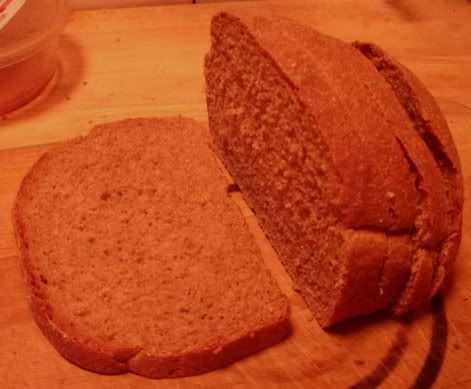 I was surprised by how light this bread is on the inside.  It's the perfect texture and density for sandwich bread, and it slices like a dream.  The flavor is wheat-y without being overwhelming and has just a hint of sweetness.  I wish I had time to make it more often; I wouldn't bother to buy bread any more!
Question for the comments: What's your favorite non-cookie treat to bake during the Christmas season?