It's been pretty random around here for the last week or so as far as food goes.  I had tasty curried spinach and potatoes from Shalimar:
I made my very favorite vegan chili, "Put The Tex In Your Mex" chili from The 30-Minute Vegan (garnished with a little avocado, which was delicious!):
And I used a bit more of the avocado to make chocolate avocado fudge from 1,000 Vegan Recipes:
Today I gave in to my craving for gingerbread cookies.  I've been eying the recipe in the VegNews Holiday Cookie Collection ever since I bought it, and after a busy week I finally had some time to whip up a batch!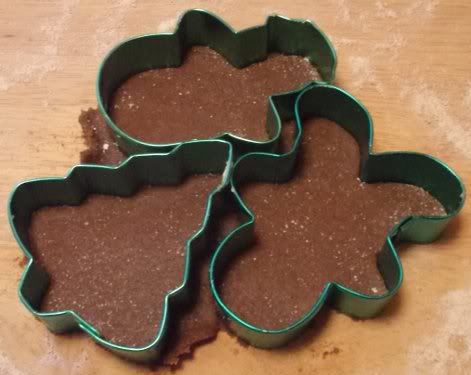 I got a little overzealous with the rolling pin and therefore they came out a bit thinner and more crispy than I was expecting, but the overall finished product was awesome.
The entire house smelled like warm ginger and cloves.  It was especially nice since we've been using our small wood stove as an extra heat source.  The effect was quite cozy.
I piped just a bit of the "Royal Icing" from The Joy of Vegan Baking around the edges of the cookies to give them a decorative look.  I managed to outline all but six of them before running out of icing.  I'm not sure if it was because I rolled the dough out too thin or because the cookie shapes were small, but I wound up getting 32 cookies out of half a batch of dough.
I would definitely make these thicker in the future for a chewier cookie.  It's a great recipe that invokes feelings of warmth from mixing to baking to eating!  We haven't had gingerbread cookies in ages, so it's a nice treat to have around for the holidays.