I'll admit that I'm posting this mostly to show off pictures of the lo mien I made the other night.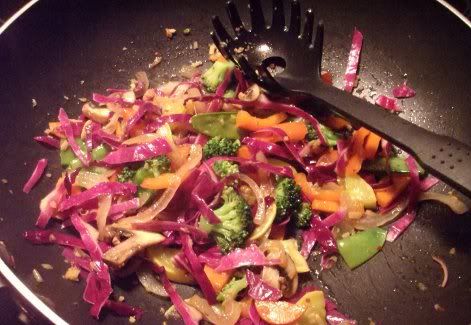 I was craving something Asian with noodles, so I went to 30-Minute Vegan's Taste of the East and found a recipe for vegetable lo mien.  I've made lo mien before from other recipes, but had never tried this one.  It called for a lot of veggies, and I went all out with 1/3 cup each of broccoli, carrots, mushrooms, red bell peppers, snow peas, and summer squash.  The picture in the book was great inspiration.  We never have snow peas around but, after seeing them in the photo, I picked some up especially for use in the recipe.  I'm glad that I did!  They were a great addition.  To round it out, I diced up a little seitan, browned it, and tossed it in near the end of cooking time.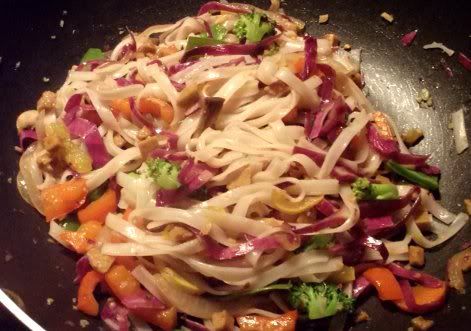 I used red cabbage for the required cabbage, making for an extremely photogenic veggie medley.  The recipe also called for an astonishing amount of garlic and ginger.  Along with the red pepper flakes, it was a lot spicier than I was expecting.  The flavor was good, but I'm not used to spicy lo mien.  In future, I'd tone down the pepper flakes and ginger a bit, and maybe add some rice vinegar.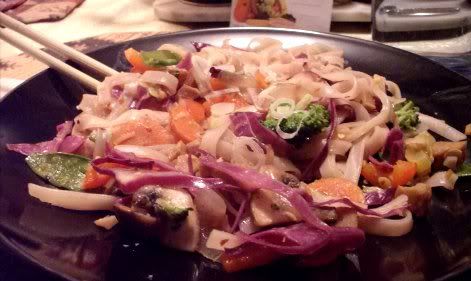 Speaking of spicy, last night I went back to the Latham, NY Shalimar with my mom and several people from the Albany National Novel Writing Month group to eat tasty Indian food and celebrate the end of NaNo.  I didn't take any pictures this time, but I had an amazing curried potato and spinach dish with roti and mango chutney.  I can't get over how much food they give you there!  I had a huge amount last night and have another big portion left over for tonight's dinner.  And I was able to order the curry spiced to my liking, meaning that my mouth was pleasantly on fire for the course of the meal.  Another two thumbs up to Shalimar for food, service, and friendliness!  They definitely work hard there.
Question for the comments: What's your favorite spicy dish, and how hot do you like it?