I blogged once before about the great food from Veggie Brothers, and it was so good that I'm back for another round!  Veggie Brothers is a vegan food company specializing in frozen convenience foods, with a focus on vegan versions of well-loved dishes. (UPDATE: Veggie Brothers stopped shipping their products in 2014.)
First up this time, their Tofu Crab Cakes with Citrus Sauce: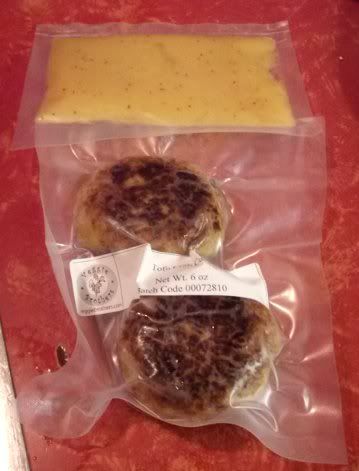 As I mentioned in the previous review, the majority of Veggie Brothers products come with instructions for three cooking methods: stovetop boiling in the pouch, microwaving, and conventional oven cooking.  I went with the oven method again this time, putting the cakes and the sauce in a small aluminum tin and covering them with foil to warm them up.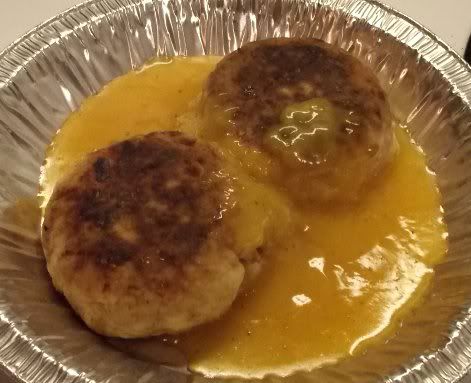 While those were heating, I put on some quinoa and green beans to go along with them.  These are big "crab" cakes (3 ounces each), so you can eat them both yourself with a green veggie or split the serving and share!  I did the latter and shared with my mom.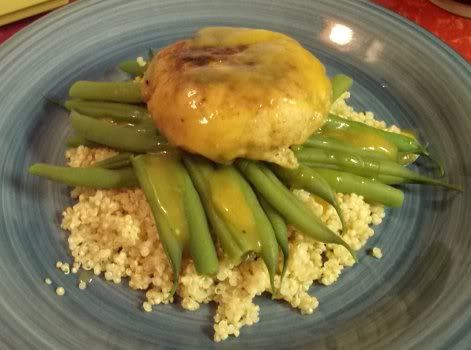 No complaints from either of us!  We both used to eat crab and imitation crab meat, and although I don't have cravings for seafood any more, these were amazing.  The sauce was creamy with a lovely citrus tang, while the cakes were flakey, moist, and tender.  Little pieces of red bell peppers added a realistic "crab" look.  The cakes look like tofu inside, but don't taste a thing like it!  They're hearty and just a little fishy without being overwhelming.  The sauce complimented everything nicely.  I would definitely eat these again.
The next one was a bit of a personal challenge for me.  Back when I was omni, one thing I never liked was ground beef.  Didn't eat meatballs, didn't eat hamburgers, didn't eat meatloaf.  There was just something about it that bugged me.  So I thought I'd see if Veggie Brothers could break my meatball bias with their Meatballs in Marinara.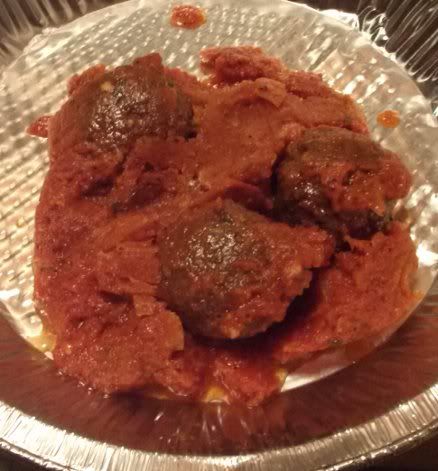 Again, I warmed these in the oven while cooking up some whole wheat spaghetti and kale as a side.  My mom was interested in trying these, too, so we split the generous 9-ounce serving.  There was a good amount of sauce, and it made for a nice-looking meal.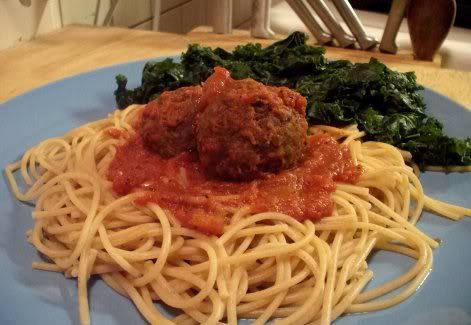 The verdict?  I still don't like meatballs, but not because these were bad.  Quite the opposite, in fact.  For people who miss meatballs, these would be perfect.  The texture and flavor were very much like a traditional meatball.  The only thing my mom and I agreed on that would make the flavor better is chunks of garlic to go along with the chunks of onion inside the meatballs.  The sauce got 100% Italian family approval for both heartiness and the combination of spices used.  These would also make a great meatball sub!
Last up, dessert with chocolate chip cookies.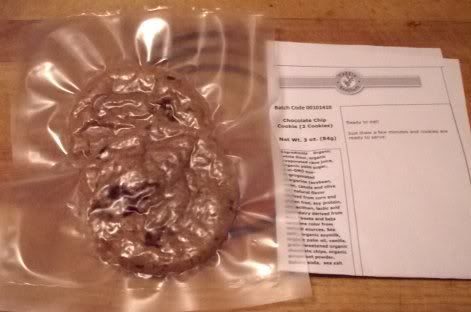 The only thing you need to do with these before eating is to thaw them.  However, since I'm a fan of warm chocolate, I popped mine in the microwave for a few seconds to melt the chips a little.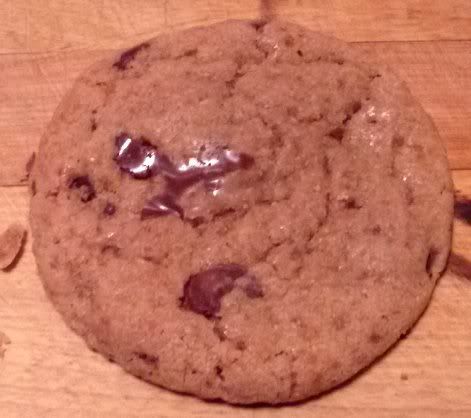 These cookies have a crunchy edge and a soft center, reminiscent of both classic Tollhouse and commercial packaged cookies at the same time.  The flavor reminded me the most of the boxed or bagged cookies I sometimes ate at friends' houses as a kid.  I detected a hint of salt in the aftertaste, but I have to admit that might just have been me since I never put salt in my own baked goods.  These cookies weren't my favorite of the Veggie Brothers offerings, but they're by no means bad!  Definitely a must-have if you're looking for a little childhood nostalgia trip.
I want to extend big thanks again to both Vegan Mainstream and Michael at Veggie Brothers for letting me try all of these amazing products.  It's been a great experience and I hope that some of you will give their foods a try.  I know I'll be going back for more!