Though my immediate family is still omni enough that Thanksgiving continues to include meat, a few bits of veganism did make an appearance this year!  One was an encore of a well-liked dish from last year, a fabulous Thanksgiving Dressing from VegWeb.
The other was this: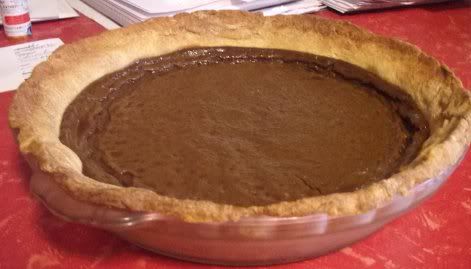 Bryanna's Vegan Pumpkin Pie, suggested to me by CupcakeKitteh via Twitter.  A slight miscalculation lead my mom and I to be looking for pie recipes after the Thanksgiving grocery shopping was done.  Many of the recipes I found sounded delicious, but called for silken tofu or full-fat coconut milk, neither of which we had on hand.  We live enough of a distance from the store for it to be impractical to run out for one ingredient, so we needed something that used only what we had.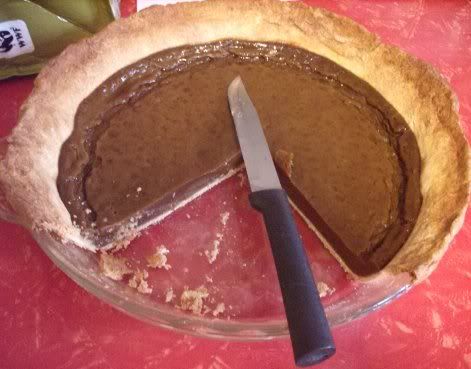 This pie fit the bill.  Simple ingredients, quick assembly, awesome flavor.  I love any excuse to break out the KitchenAid!  We used a little less nondairy milk than was called for, fearing a full cup would make it come out soupy, but I think we could have put all of it in without a problem.  For the crust, my mom updated her traditional recipe to use whole wheat pastry flour, non-hydrogenated shortening, and agave nectar.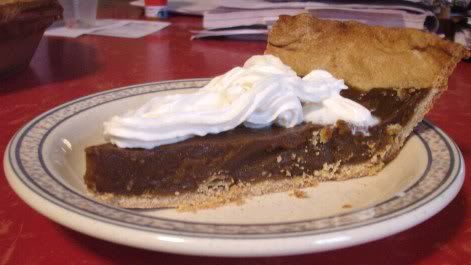 I'm not much of a pie eater, but even I enjoyed this!  It set up well and the balance of spices was very good.  Add a little nondairy whipped "cream," and viola!  A new Thanksgiving dessert tradition.
Question for the comments: What dish(es) did you give a vegan makeover to this Thanksgiving?