Go ahead and admit it.  As a vegan, there are some dishes that you miss.  Perhaps you're still transitioning to a vegan diet and keep slipping because of that one thing you feel you can't live without.  Or maybe you're just looking for quick and easy vegan meals that taste more like food and less like the box they come in.  Sound familiar?  Veggie Brothers to the rescue!
Veggie Brothers is a vegan food company founded in 2005 by Michael Balducci with the goal of bringing delicious meatless versions of favorite dishes to vegetarians and non-vegetarians alike.  They aim to use the best quality ingredients possible, focusing on providing organic, non-GMO, and pesticide-free foods.  Their products are prepared and packaged for convenience, with clear cooking instructions for stovetop, oven, and microwave.  With products ranging from breakfasts to soups to entrees to desserts, Veggie Brothers is a versatile choice for quick and easy veggie meals. (UPDATE: Veggie Brothers closed in 2014 and their website is no longer live.)
I had the opportunity to try several of their products, and I've been very impressed so far!  It's hard to know where to start, but I think these might be a good introduction: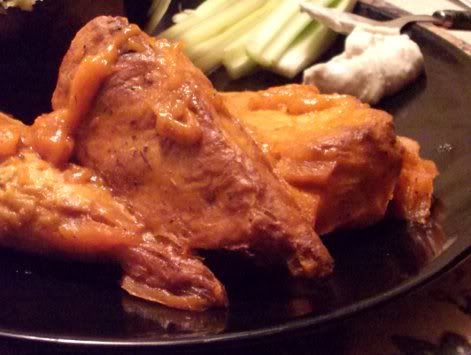 Vegan buffalo wings!  I'll admit up front that buffalo wings were one of the things I had a very hard time letting go of when first going veg.  As I'm sure I've mentioned, I'm a huge sucker for hot food, and buffalo wing sauce was always one of my favorites.  Veggie Brothers' Hot & Spicy Soy Chicken Buffalo Wings completely satisfied the part of my brain that still craves that flavor!  Everything from the texture to the sauce itself was just like I remembered buffalo wings being.  They're even held together with a little wooden dowel in the middle, which makes it that much easier to pick them up and make a mess of yourself as you enjoy devouring them.  The 8-ounce serving is a lot of food, so they don't really need much in the way of sides or adornment.  You might even want to share them with a friend!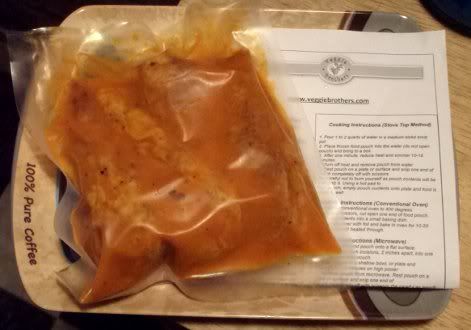 This is how the wings–and all Veggie Brothers products–come packaged, in a convenient sealed pouch that can be boiled as-is in a pot of water, cooked in the microwave, or dumped out in a casserole dish and baked in the oven.  (Some products, like their desserts, simply need to be thawed at room temperature.)  I chose the oven method for these, which worked out very well.  The wings held their heat and were warm from first bite to last, although the spiciness of the sauce probably had something to do with that!  The only potential con with these is the texture.  I loved it, but long-time vegans or people who really don't like a "meaty" feel to their food might find it disconcerting.  But if you like and miss buffalo wings, these are pretty much epic.
Next up, lentil walnut burgers!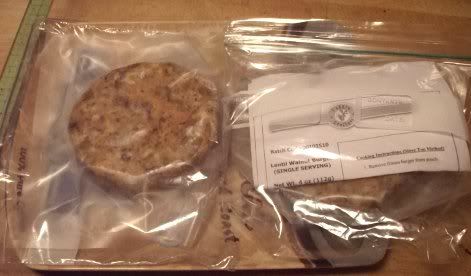 These ain't your puny, over-processed veggie burgers!  Each burger is 4 ounces of delicious lentil/walnut/vegetable goodness.  We are talking a burger you could serve to hardcore meat-and-potatoes omnivores and get no complaints.  And you won't get any from me on these, either.  The texture and flavor are both amazing, without a trace of the strange chewiness and aftertaste that some commercial veggie burgers have.  Another big plus is that they're low in sodium, putting them miles ahead of their processed counterparts.  Occasional bits of walnut add to the hearty feel, and the mushrooms give a fullness to the flavor.

I served mine up on pumpernickel bread with onion, tomato, lettuce, and a side of mixed greens.  These burgers are pretty versatile, though; I'd imagine they'd even be good crumbled in a pita with a little hummus or served on their own with a mustard sauce.  One warning: they do tend to fall apart a bit as you eat them.  But since this has no effect on how amazingly delicious they are, I'd call it a moot point!

Eggplant Parmesan is one of those things that I didn't really eat before becoming vegan.  But being 50% Italian, I have a soft spot for just about anything involving red sauce and melted cheese.  Baked pasta dishes and the like were something I missed a great deal before finding viable vegan alternatives.  And speaking of, if you like eggplant parm, give this a try.  Veggie Brothers has this one spot on!  Flavor can be hit-or-miss with a lot of frozen foods, but not so with this.  I was impressed by how fresh the eggplant tasted.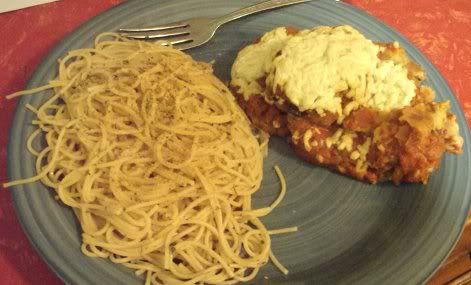 The bread crumb coating was impressive, too; it held together well even in places where it wasn't smothered in vegan rice milk cheese.  The cheese itself?  Oh yeah.  I'm a Daiya girl through and through, but this was just about as amazing.  Creamy, smooth, and not anything like the crazy plastic stuff that most grocery stores try to pass off as cheese substitutes.  The sauce covering it all actually tasted like Italian sauce, which is saying something considering I grew up eating homemade tomato sauce more often than was probably healthy!  I made some whole wheat pasta with a little oil and Italian seasoning to go with the whole thing, but I think a green veggie like chard or kale would do just as well as a side.  Verdict?  Delicious.
Thus far, the food from Veggie Brothers has been a wonderful treat.  These are all dishes that would be difficult or time-consuming to replicate in my small kitchen.  And as someone who occasionally benefits from having a quick, convenient meal on hand, it's good to know that there's a place that is making delicious vegan meals without a ton of processing.  The portions are generous, the sodium content is lower than you would expect, and even the dishes that are higher in fat boast healthy fats rather than saturated.  Two thumbs up from me!  I recommend them highly for transitioning vegetarians, vegans looking for old favorites, and anyone trying to convince omni friends and family that vegan food isn't all sprouts and lentils (and, even when it is, it's delicious).
Still to come in a future post: chocolate chip cookies, "meatballs" in marinara sauce, and tofu "crab cakes!"  A big thanks to both Veggie Brothers and Vegan Mainstream for the opportunity to try all of these great foods.
Want to see more? Check out part 2!