November means whonky weather in the Northeast, and this week has been no exception.  One day it's freezing cold with bitter winds, the next rain is cascading down from the sky while the temperature steadily climbs.  No matter what it's doing, it's almost always a good day to try another soup recipe, right?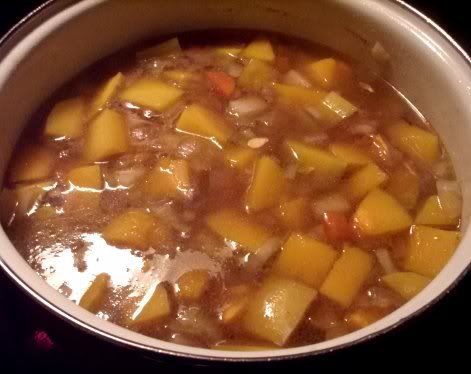 We had a butternut squash hanging around that was given to us by a family friend, and I decided it was high time to use it up in, what else, butternut squash soup!  I went for the recipe in 1,000 Vegan Recipes, but left out the suggested swirl of cranberry sauce and orange juice.  I was looking for pure, unadulterated butternut squash soup, and this recipe delivered!
I'm not going to say too much about the incident with the food processor that left about half the soup's liquid all over the kitchen counter…I'm sure you can imagine.  Needless to say, the Black & Decker got a good cussing out and will likely be replaced by something without funky seal problems in the near future.  Either that or it will stay relegated to the cabinet unless it's needed for something like hummus, which doesn't splurt everywhere if something goes wrong.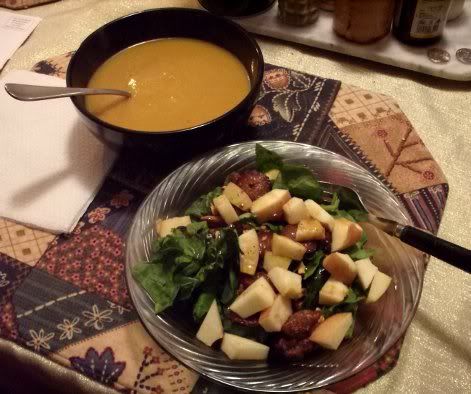 Messiness aside, the soup came out great.  It was thick and creamy, due in part to the potato the recipe calls for and probably also to my not adding quite enough liquid back into the pot to replace what the food processor dumped.  I'm not sure I would have wanted it any thinner, though!  The texture was good and hearty, as was the flavor.  There seemed to be a little something missing, spice-wise, which I would like to figure out and correct next time.  Because, with butternut squash soup, there is always a next time.  (Fresh ginger instead of ground, perhaps?)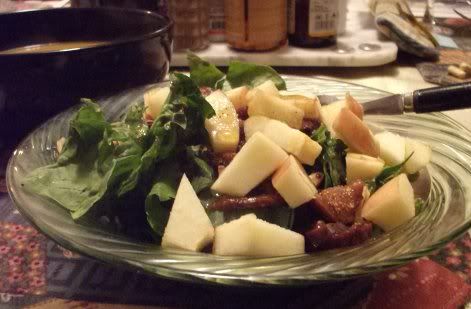 While searching for something to go along with the soup, I stumbled upon an ingenious salad recipe, also in 1,000 Vegan Recipes. It called for spinach, figs, toasted almonds, and Fuji apple in a balsamic vinegar and olive oil dressing.  Talk about wow.  I've always been fond of adding fruit to salads.  I love the combination of savory dressing and sweet bits of dried or fresh fruit.  This would be a great salad to make in quantity and share, which I might do the next time there's a potluck lunch at my church.
Question for the comments: What's your favorite unconventional salad ingredient?