Ever since I first tried oven-roasted beets, I've been wanting to have them again.  Roasting brings out such a nice sweetness that beets don't need any fancy adornment.  So last night I took about a pound of beets, peeled them, sliced them up, and roasted them kind of like veggie chips with a spray of olive oil and a sprinkle of salt.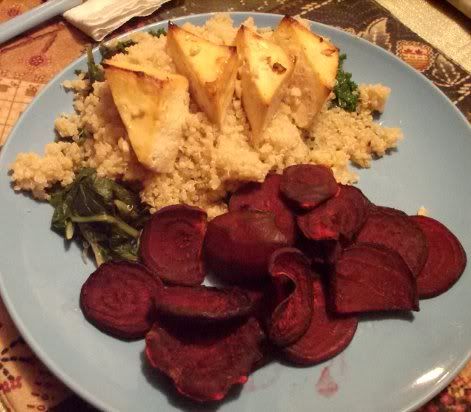 I don't think I need to say how awesome they were.  To go with them, I made the basic broiled tofu from Veganomicon, served up on a bed of quinoa and mixed kale and chard.  My only complaint about the tofu was that it turned out a bit too soft on the inside, but that could easily be fixed either by turning it halfway through the cook time or draining it more than I did.  Regardless, it gave me a good excuse to try out the broiler on the new stove!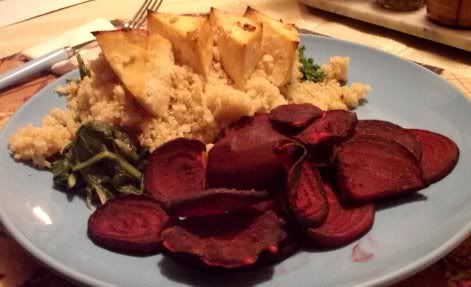 It turned out to be one of those meals that looks elegant but is actually simple to prepare.  Nothing needed to cook for more than half an hour, and just about everything except the tofu was able to cook at the same time.  I wound up having to pop the beets in under the broiler for a few minutes to warm them back up, but overall everything came together without a problem.  It tasted pretty amazing, too!
Just as a side note, I know I haven't gone back to the series on eating disorders that I intended to write.  I still do mean to write it, but probably won't get a chance to start until December.  It's a tough subject to talk about, much less blog about publicly.  They're going to be the sort of posts that take a while to put together.  But if there's anything in particular that you'd like me to cover when I do write them, please let me know!