What do vegans do when they find themselves with an unexpectedly relaxed day?
Why, they bake blueberry chocolate brownies, of course!
I've had my eye on this recipe out of Veganomicon for a while now, mostly because the title promises "fudgy wudgy" brownies, but also for the unique inclusion of blueberry fruit spread.  My personal favorite fruit spread is Crofter's, which just so happened to be on sale at the local co-op when I was there this past week.  Having already tried the blueberry flavor on bagels, I knew it was awesome.
The verdict?  Yes, blueberry and chocolate are awesome together.  The only ingredient I didn't have was fresh blueberries, and I think having them would add an extra dimension of deliciousness to the finished product.  But even without them, these brownies are moist and tasty with just a hint of fruit.
I also used my much-needed free time to get a little elaborate with dinner.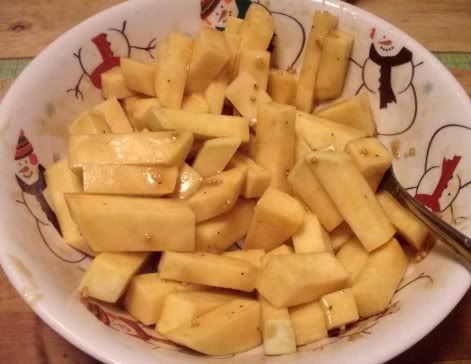 Rutabagas were on sale recently and I decided to buy one, as I am often wont to do with sale vegetables.  Of course, once I had it on hand I had no idea what to do with it, and for once my cookbooks didn't have many suggestions.  But it's the beauty of today's social media world that you can put out a call for rutabaga recipes on twitter and have half a dozen responses before lunch time.  Thanks to cookinvegan, I settled on a maple mustard glaze that sounded amazing.
Maple-Mustard-Glazed Rutabaga
serves 2 as a side
Ingredients
1lb. rutabaga, peeled and cut into chunks
1/2 tbsp. Dijon mustard
1 tbsp. maple syrup
1 clove garlic, crushed
1/2 tsp. mustard seed
1 tbsp. olive oil
Directions
1) Preheat the oven to 400°F.  In a bowl big enough to hold the rutabaga, mix all the glaze ingredients together until well blended.
2) Add the rutabaga pieces and mix until well coated.
3) Spread the rutabaga on a baking sheet, drizzling with any remaining glaze.  Roast for 30-40 minutes, stirring once, until the glaze darkens and the rutabaga is tender.
I wound up making two separate batches of glaze and turning one into a marinade for tempeh a la Veganomicon.  I added about 6tbsp. of water to the glaze to make it a marinade and marinated 1/2 block of tempeh for an hour before panfrying it for about ten minutes.  The flavor took really well and some green beans were all we needed to complete the meal!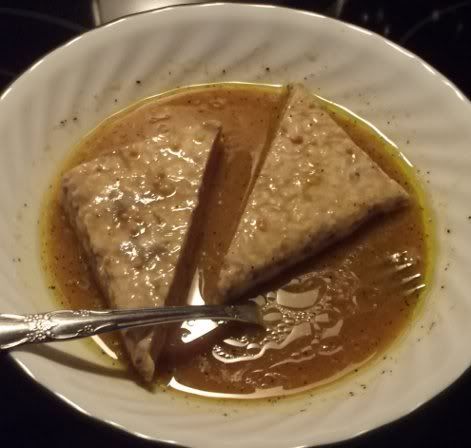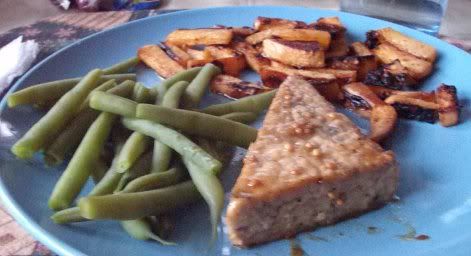 So now that I know how tasty rutabaga is, I'll be using it more in the future!
Question for the comments: What new foods have you tried recently, and which was your favorite?