All I can say is–whew!  Yesterday was really quite something.  As I mentioned in my previous World Go Vegan Week post, I gave a presentation at my local library about the health and environmental benefits of veganism, as well as a  bit of information on the vegan lifestyle itself.  I have a whole new appreciation for what it takes to plan and host an event!
My local library (the Sand Lake Town Library) was kind enough to let me use their meeting room for the presentation, and allowed me to rearrange it to my liking in order to accommodate information and refreshments.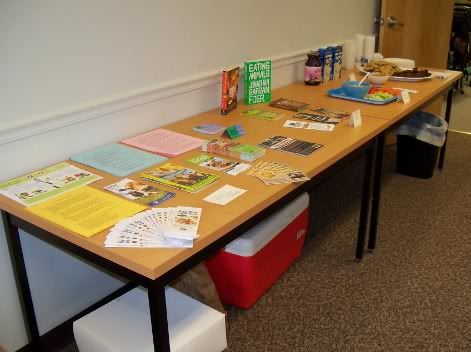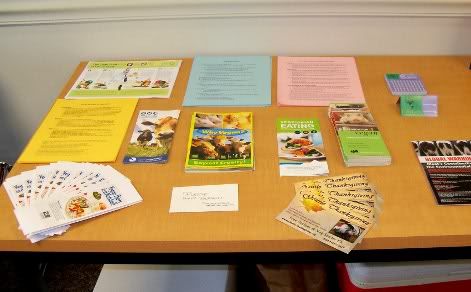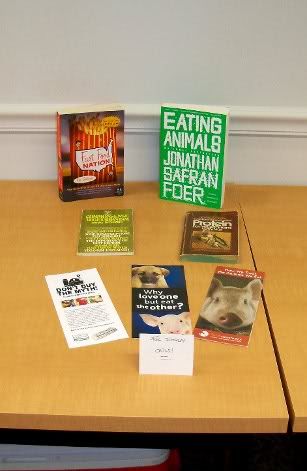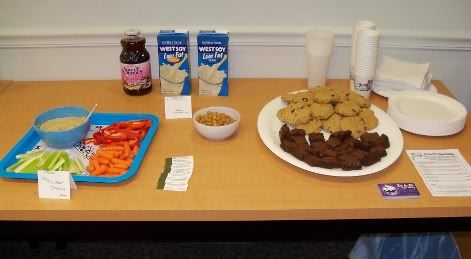 Some of the pamphlets and handouts were things I either found and printed or put together myself, and some were extras I picked up at the Veg Expo.  The rest came from the wonderful folks over at In Defense of Animals, who provide information to people hosting events for World Go Vegan Week.  Let me tell you, it was a big help!  So were the delicious oatmeal cranberry cookies and chocolate brownies from X's to O's Vegan Bakery.  In addition to the hummus, veggies, and roasted chickpeas, I knew I wanted to wow people with some vegan desserts, and X's to O's is definitely the place to go for that.  Big thanks to them, as well!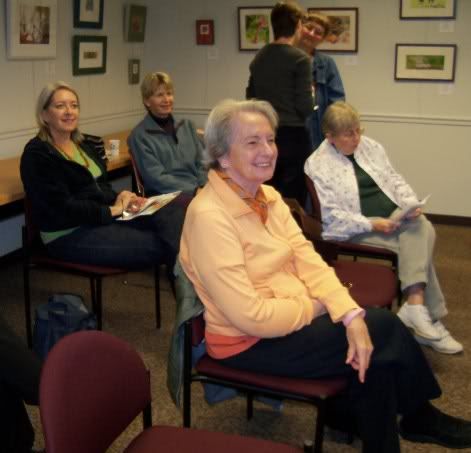 People started to trickle in a little after 1pm.  A few I know from church and Bible study who had mentioned they were thinking about coming, and I was glad that they were able to show up.  Others were family friends, people from around the community, and a couple fellow NaNoWriMo participants (hi guys!).  All in all, my mom counted about fifteen people who stayed for the talk.  Oddly enough, all of them were women, which I didn't notice until Mom mentioned it afterward.  I wonder if this is indicative of the mindset in my area, or in general across the board?  Might be a statistic worth looking into!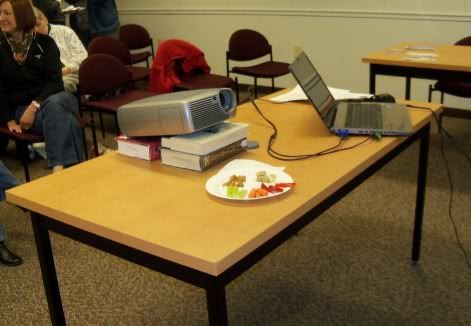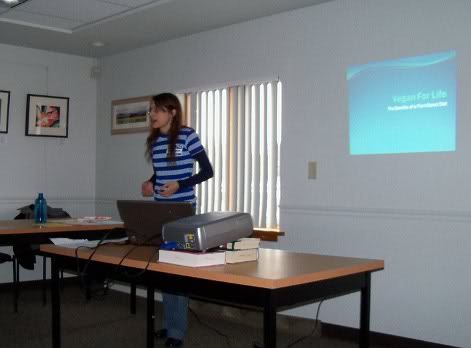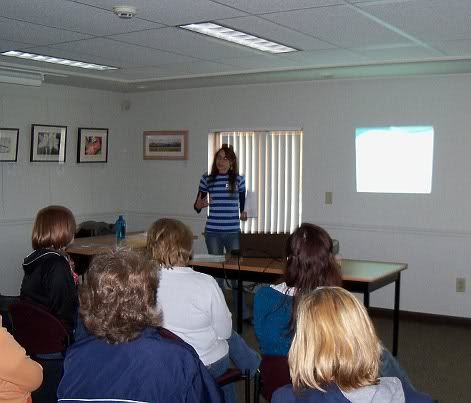 I'm pretty sure it was divine intervention that got me through the entire presentation.  Things have been so crazy over the last week that I didn't have any time for formal preparation of the talk itself.  I had a printout of the slides, some notes, and a few ideas–and glory be to God that it was enough!  I think it went well; I touched on most of the points that I'd jotted down in my notes, and people seemed to be genuinely interested.  There were several good questions at the end, too, which I hope I answered to people's satisfaction.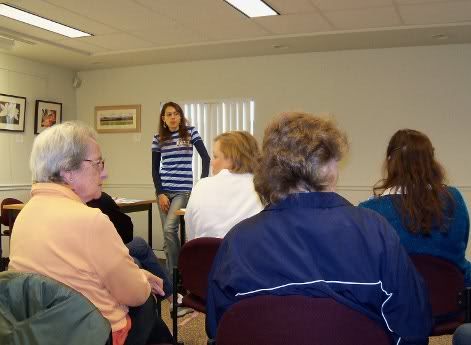 (If it looks like I'm chewing in this picture, it's because I am.  I couldn't resist grabbing some hummus, veggies, and roasted chickpeas for myself!) The literature and refreshments were both a big hit, which made me feel good.  I saw several people leaving with a decent stack of fliers and pamphlets, hopefully with a few extra to give to friends and family!  And everyone who tried the refreshments was impressed.  The cookies and brownies were especially well-received; no one could believe that they were 100% free of dairy and eggs.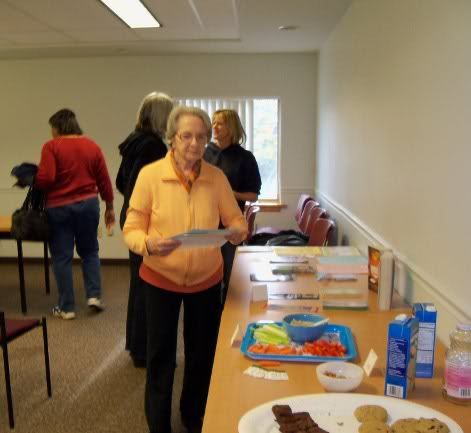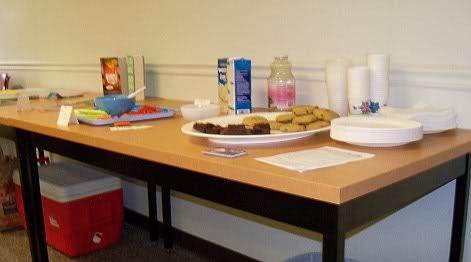 By the time all was said and done, most of the roasted chickpeas, half the hummus, and all but two cookies and two pieces of brownie were left.  The juice got finished and the soy milk was tentatively sampled.  The stacks of handouts were appreciably smaller, and several people expressed thanks that I'd put on the presentation.  Given that I tend to be extremely self-deprecating, that made me feel good.  I'm glad that I was able to put the event together and share necessary, important information with a group of interested people.  It was definitely worth the time and effort that it took to plan!  I'm hoping to be able to do something similar in February when Eating Disorders Awareness Week rolls around.
Presentation photos by Karen Houghton.