Meet the newest member of the Quantum Vegan household: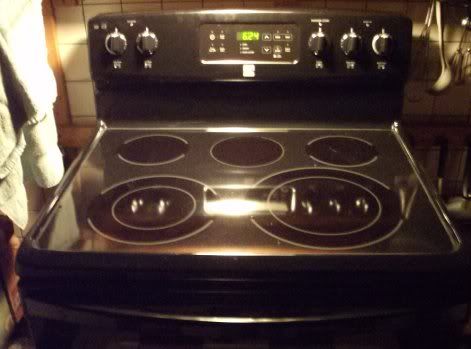 To say that my mom and I were excited when this arrived would be a gross understatement.  Despite having a lot of good vegan food from the co-op and some delicious leftovers, we were sorely missing being able to cook.  This is our first time owning a glass-top range, so I was especially excited to use it.
I spent most of the day processing and canning more tomato puree, and decided to cook up some millet for lunch with a little Earth Balance, a drizzle of liquid aminos, and some fresh parsley.  It was a much more warming lunch than a couple of days ago, when I desperately wanted a nori roll and went the almost-raw route.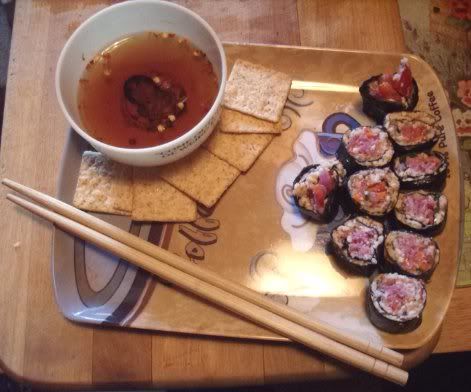 I say almost raw because the nori is the roasted kind.  But for the filling I used almond pate from The 30-Minute Vegan, some red pepper, carrot, and a bit of the kimchi that I made last month.  Wow is that good stuff!  Very spicy and delicious, with a bit of a kick to it.
For the first dinner on the new stove, I turned to two alfredo recipes for inspiration: pumpkin alfredo on Manifest Vegan and easy vegan spinach alfredo from Healthy. Happy. Life. I've been eyeing these recipes since Monday, as both have components I like but neither was exactly what I wanted to make.
I wound up trying a combination of both, using tofu and nutritional yeast as the base for the alfredo sauce, but spicing it more like the Healthy. Happy. Life. recipe to go with the spinach.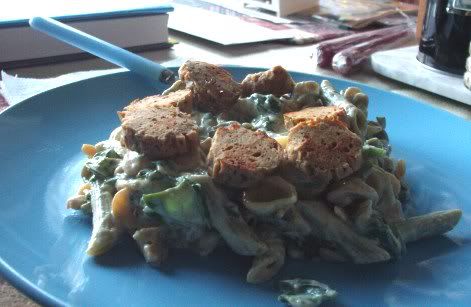 I also took the suggestion to brown some vegan sausage and add that, as well.  The end result was good, but not quite spot on.  I'd like to make it again with fresh garlic, less cumin, and perhaps a pinch of cayenne.  Oven-roasted tempeh would also make a good addition instead of the sausage, though the sausage was very tasty!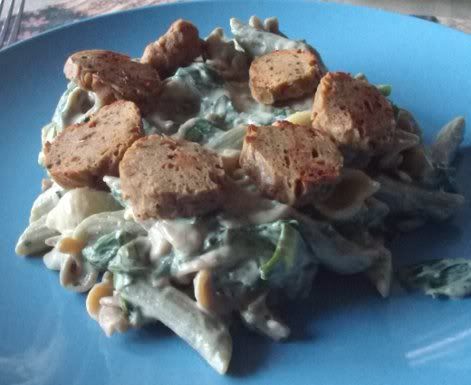 Needless to say, I love the new stove and will be putting it to good use!  The first test of the oven will be when I roast chickpeas as part of the refreshments for the talk I'm giving tomorrow.  I can't wait to bake cookies or brownies at some point, too!