This is the stove currently residing in the Quantum Vegan household.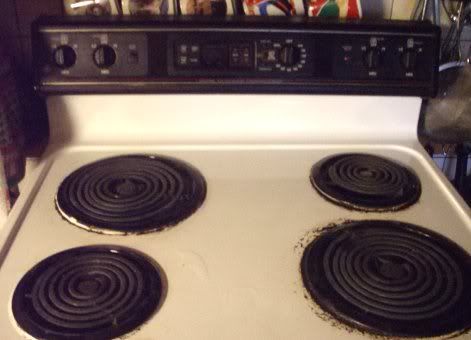 Note the distinct lack of life.
This is the slow cooker that usually sits on the shelf and gets ignored, except for the rare occasions when (blech) stew meat appears in the house.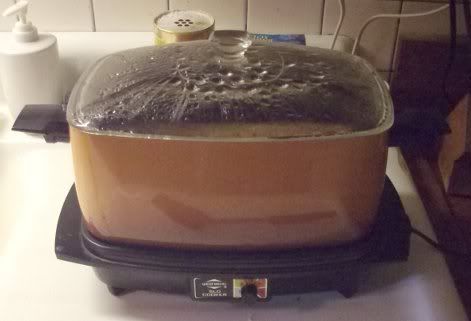 You may be able to guess where this is going.
On Saturday, I did some canning and had a few incidents with water boiling over.  Thus when an odd smell started coming from the stove, I figured it was just some of the water and omnipresent stuck-on food (you know, the kind that never comes off no matter how hard you scrub?) reacting to the heat.  But at around 2pm, hours after I'd finished canning, my mom and I noticed that the stove felt oddly warm.
Turns out the oven was running.  While it was turned off.  Thinking it might just be a glitch, I turned the oven knob to broil.  There was a pop, a flash, and then…nothing.  Dead stove, blown breaker in the basement.
Of course the first thing I did was panic.  No stove, no cooking, right?  No cooking, relegated to microwaved food and takeout!  Until my mom reminded me that we do, in fact, have the slow cooker pictured above.
(As a side note, literally everyone we told the stove story to asked if we were sure it was the stove.  We had an electrician come and check just in case…yes.  It was the stove.  Specifically, a mouse that had gotten into the stove.  Mouse tunnels in your oven are not good things!)
By a fortuitous twist of devine intervention, I also happen to have Robin Robertson's Fresh From the Vegetarian Slow Cooker out of the library.  Flipping through it turned up a neat recipe for slow cooker pot pie, which I put together for last night's dinner.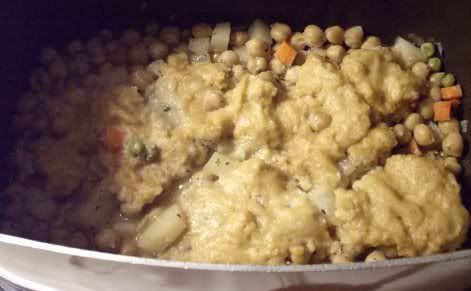 I haven't cooked much with slow cookers or Crock Pots in the past, and before this I'd never made a recipe written specifically for a slow cooker.  But it turned out to be as easy as, well, pie!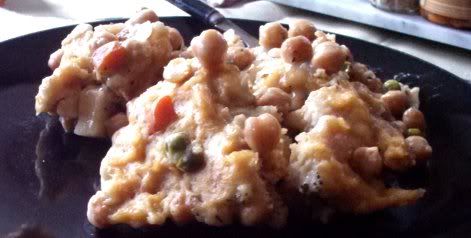 The flavor was decidedly richer and deeper than something cooked in the oven.  I never would have thought that you could slow-cook something with a biscuit topping, but it turned out delicious and moist.  The filling was pretty traditional: onions, carrots, peas, potatoes, and some chickpeas for bulk and protein.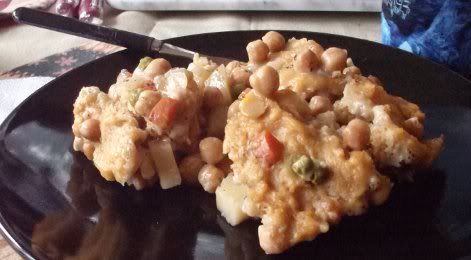 It was definitely a lifesaver, and I'll probably be pulling out the slow cooker again before our new stove is delivered.  It's supposed to come tomorrow, but you never know what time the delivery service will announce they're coming!  I think I'll plan some chili, just in case…
Question for the comments: Do you cook with a slow cooker?  If so, what's your favorite dish to make?