The other day, I had one of those days where I woke up and knew I wanted Asian food, but wasn't sure what to make.  That meant only one thing…time to pull out The 30-Minute Vegan's Taste of the East and browse the Japanese and Chinese recipes!
I settled on the Teriyaki Tofu, which is a variation on the theme of marinated tofu cutlets baked in the oven.  The marinade was pretty basic, with soy sauce (I used liquid aminos), garlic, ginger, maple syrup, and a couple other things, thickened with arrowroot.  It also called for mirin, which I never have on hand, so I used rice vinegar.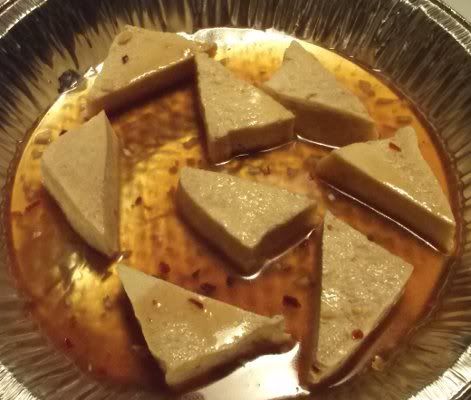 While that was baking, I cooked up some Jasmine rice and steamed a bunch of carrots, peppers, mushrooms, onions, and red cabbage to go with it.  Deliberately shooting for photogenic food?  Who, me?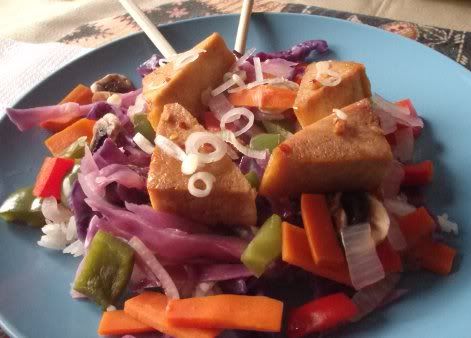 Made for a pretty combination, didn't it?  The recipe called for quite a few more green onions than I wound up using, but I think it turned out okay since there were so many other veggies.  More of the sauce cooked off during baking than I expected, so my mom and I drizzled a little extra liquid aminos over the final product.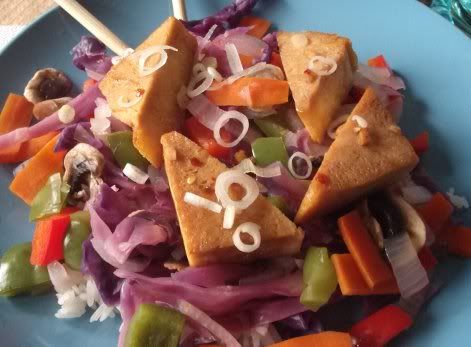 It was definitely delicious!  My brother isn't big on tofu, so I never got in the habit of making it all that often, but when I do I enjoy experimenting like this.
Speaking of experiments, the other night I was looking for something to do with the rest of the butternut squash and wound up going back to the African sweet potato and peanut stew in 1,000 Vegan Recipes.  But instead of sweet potatoes, I used an equal amount of butternut squash and also wound up substituting some sunflower seed butter for the peanut butter.  Wow, was that good!  My mom bought the sunflower butter at the Harvest Fest, and it has a more mellow flavor than peanut butter which wound up complimenting the butternut squash very well.  I'd definitely do that again, maybe even with a different kind of nut butter or tahini.
Question for the comments: What's your favorite tofu dish and why?