On a recent drive through Latham, my mom and I noticed a new Pakastani-Indian restaurant had opened up in the Peter Harris Plaza.  It's called Shalimar, though apparently it's not related to the other area restaurants with the same name.  We noticed that they offered both eat-in and takeout, including a lunch buffet midday.  I'm usually fond of ethnic restaurants, as they tend to have a few dishes I can eat without having to ask too many questions.  When I looked up Shalimar's menu, I found they were no exception.  They're not veg by a long shot, but they do have several veg-friendly dishes, and all the menu descriptions are clear enough that it's easy to tell the difference.
Last night my mom and I went out to dinner there along with a family friend.  The interior was subdued in both decor and lighting.  The only exception was the music, which was upbeat, lively, and definitely Eastern.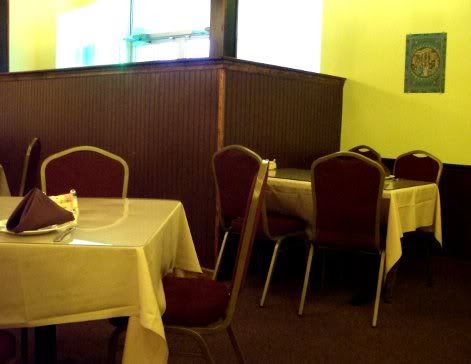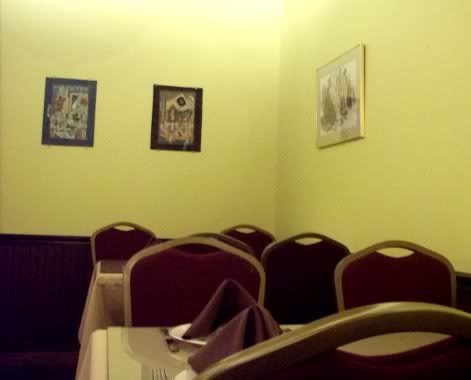 It was early in the evening when we got there, and there was only one other table of people.  The staff was attentive, seating us right away with menus and taking our drinks order.  The menu had enough tasty-sounding veggie offerings that I had a bit of a hard time deciding.  The vegetable curry won out along with some mango chutney, but there were also tempting appetizers like vegetable pakora and samosas, Mulligatawny soup, seasoned naan, and a few veggie rice dishes.
My mom ordered the veggie samosas, onion naan, and basmati rice with vegetables; our friend got some roti and the vegetable korma, which had a "creamy sauce" so I stayed away from it.  It did, however, look very nice when it arrived (and, in all honesty, might have been creamy because of coconut milk, but I didn't think to ask).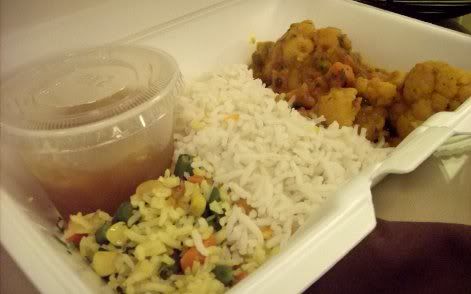 Speaking of, you know the food is good when you forget to take a picture of it until all that's left winds up in a takeout container.  I wish I had remembered, because the presentation was a nice as the food.  Mom's samosas, being an appetizer, came first, arranged on a bed of lettuce.  Then both the korma and the curry arrived in decorative metal dishes separate from the accompanying rice, which had its own small platter.  The roti and naan were in bread baskets, and the chutney came in a small plastic condiment container.
I liked being able to mix the rice and curry the way I wanted.  I was also able to put away half to take home without a problem, which I always do at the start of any meal out since I tend to have eyes way bigger than my stomach and have made myself ill on more than one occasion by trying to finish everything at once!  My only complaint is that the curry wasn't hot enough in either temperature or spice, though I suspect I could have asked for them to turn the heat up spice-wise.  The overall flavor was very good, good enough that I ate the cauliflower along with all the other veggies without fuss. (It's a well-known fact in my family that cauliflower is one vegetable I've never been able to warm up to.)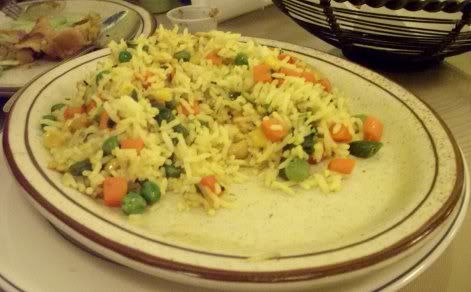 Mom's veggie rice was priced like a side dish, but came in a meal-sized quantity.  The other dishes were comparable as far as value goes, and all three of us ate for around $36.  Since we all took away enough for at least one more meal, you could say dinner itself only cost $18!  Not bad for three people ordering a combination of appetizers, main courses, bread, and drinks.  One thing they could do better on, though, is including condiments with meals rather than making people order them separately.  I'm sure this is a budget measure, but it did seem a bit weird.
Overall, Shalimar is a nice place to go for a tasty Indian meal.  The staff were very friendly throughout the evening, asking us if everything was okay and not giving me any strange looks when I requested a takeout container before the food even arrived (which gets instant points in my book).  The menu is varied enough to satisfy omnivores as well as vegans, making it a good place to take a mixed party and perhaps introduce them to a new veg dish.