We had our first frost last week here in the Northeast, meaning that I had to pop out to the garden and harvest all the tomatoes before the plants died.  There were an astonishing amount, more than I had been expecting, and most of them still green.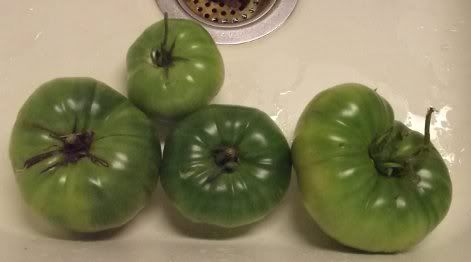 Ever since the first tomato appeared on the plants this year, I've been dreaming of green tomato recipes.  Don't get me wrong; I love a good red, ripe tomato.  But I like quirky recipes, too, and a lot of people don't seem to see the potential in green tomatoes.
Fortunately for me, Mira over at Grains & More does!  I mentioned on Twitter that I had picked the tomatoes (which I didn't weigh but imagine amounted to 40-50lbs.), and was rewarded with this awesome chutney recipe. I always eye chutney at the co-op, but never buy it since it tends to be on the expensive side, so I was excited to take a crack at making my own!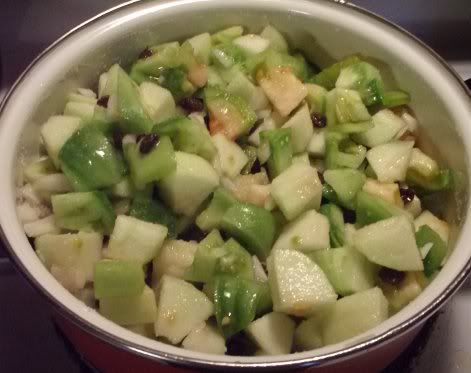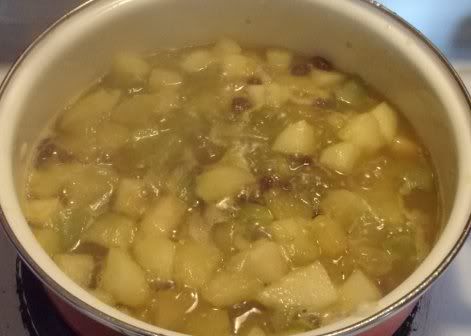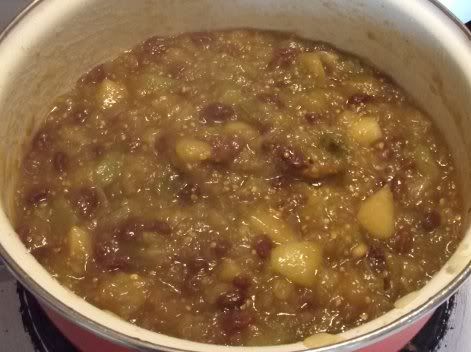 This was a fairly easy recipe to throw together.  There wasn't too much chopping involved, and everything cooked down nicely.  It gave the kitchen a nice smell, too; an unusual one, to be sure, but nice nonetheless!  Between the tomatoes, apples, raisins, sugar, and cider vinegar, it smelled both sweet and tangy at the same time.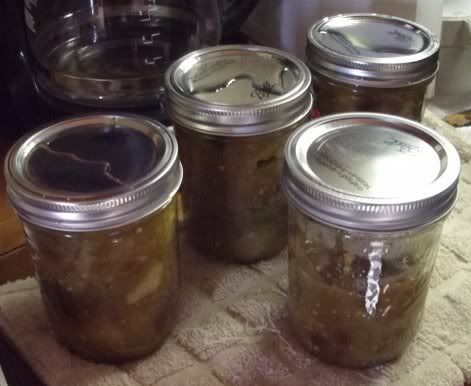 I made half a batch and got about three and a half pints.  I know the flavors have to sit and mingle for a while, but I'm impatient to try it!  When the time comes, I'll have to make lentil curry or something similar to serve it with.  Thanks for the great recipe, Mira!