I know I've mentioned several times that it's getting cooler here in Quantum Vegan Land, but it's hard not to mention it.  The difference between summer and fall in the Northeast is so sudden and pronounced that I'm almost always left feeling like someone pulled the rug out from under me.  One day I'm wandering around outside in shorts, then BOOM, it's jacket-and-hat weather.  Around here, fall is the brief interlude between sweltering humidity and frigid ice storms!
The continuing upside of this is, of course, the food.  My mom had a long weekend for Columbus Day this past week, and we spent it doing a lot of fun food-related things.  First we spent a long time in the garden, grabbing the rest of the produce while the getting was good.  (This involved a lot of work with a giant garden fork, pitchfork, and bushel baskets, which resulted in an enormous yield of potatoes.)  Then it was on to the kitchen for some vegan baking!
I had a ridiculous craving for Russian tea cakes, a.k.a. Mexican wedding cookies.  Mom used to make them all the time for Christmas, and all of a sudden I had to have a batch.  Lucky for me Vegan Cookies Invade Your Cookie Jar has what is pretty much a veganized version of the recipe I remember.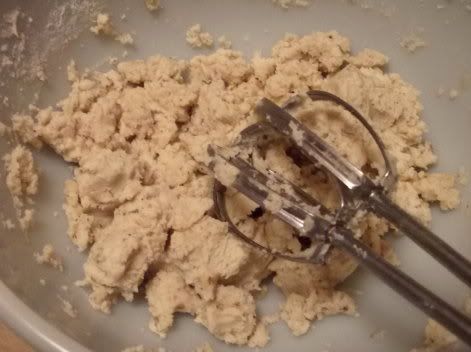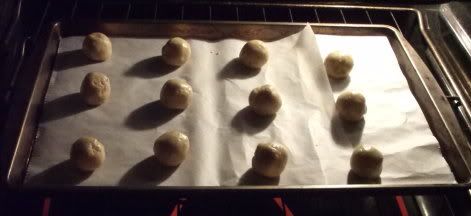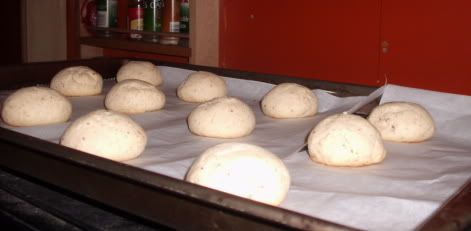 They're very easy to put together.  The most involved part of the dough was having to grind some walnuts in the food processor.  The rest of the dough pretty much consists of various forms of vegan fat, flour, and powdered sugar.  Then there's the fun part: coating them!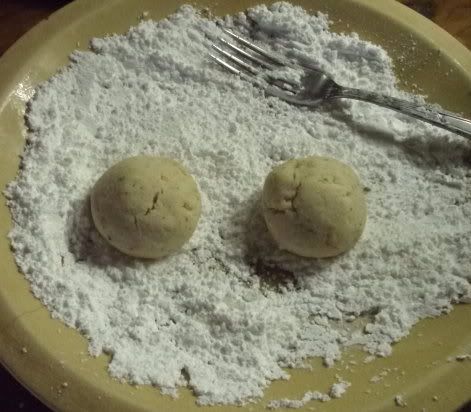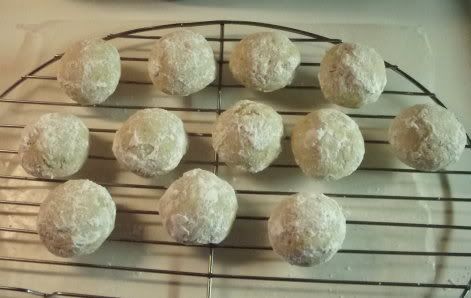 While they're still warm, each cookie gets a generous coating of powdered sugar to finish it off.  This is the part that I always loved as a kid because it gives them a nice sweet flavor.  They also wind up just a tiny bit sticky to the touch.  Really all they are is a ball of butter and sugar, but we all need that once and a while, right?  They turned out just like I remembered them, making this a big vegan cookie win.
My mom was craving apple pie, so we made that, too.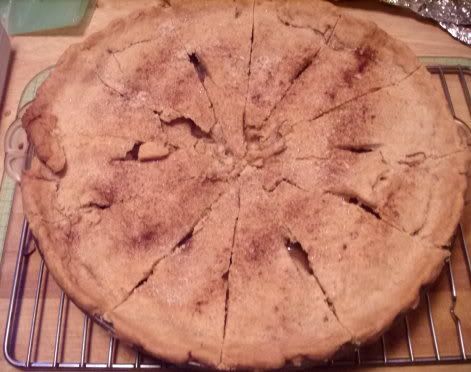 It was our first time making pie since I went vegan, and therefore our first vegan pie!  We went with the recipe from The Joy of Vegan Baking and it turned out amazing.  The crust is delicate, the apples are cinnamon-y, and best of all it was Mom-approved.  She's pretty open to trying vegan stuff, but after years of making "regular" pie, I was worried that this recipe wouldn't stand up to expectations.  The only thing we agreed needed tweaking was the crust-to-apples ratio; that is, more apples, less crust.
All in all, it was a very productive weekend.  Between the fresh produce and all the baking, the house smelled amazing, and we're going to have great food to enjoy pretty much all winter.  I'm hoping to use some of the potatoes in a recipe soon!
Question for the comments: What dessert to you absolutely have to have when the weather starts cooling down?