I'm half Italian, so as you can probably imagine, I do still have the occasional craving for a warm, authentic baked pasta dish. A lot of the time, I'm so busy trying out other cuisines that I forget how awesome pasta can be.
There's a cool recipe in 1,000 Vegan Recipes for "lasagna pinwheels"–lasagna noodles rolled around a filling and baked with sauce.  I really, really wanted those the other night, but ran into a small problem: we were out of lasagna noodles.  Given that the nearest grocery store is a 20-minute drive away and it was an absolutely miserable day outside, I decided to improvise.  I found a box of jumbo pasta shells in the pantry, and lasagna pinwheels turned into vegan stuffed shells!
A couple of people have asked me for the recipe, but I didn't really adapt it enough to call it "mine."  I can, however, babble about what's in it.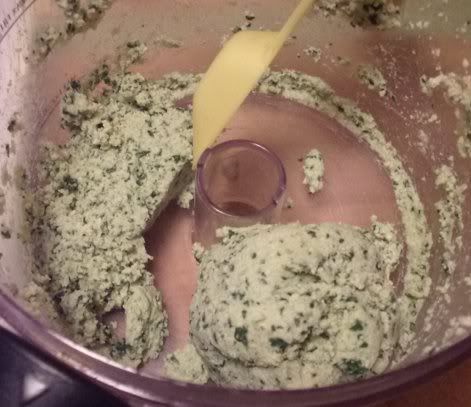 The recipe called for tofu, white beans, and spinach in the filling.  We also had no spinach, but we did have kale, which I'll eat in or on just about anything!  All of that got processed in the food processor with a little salt and pepper, and came out remarkably ricotta-like.
I used Newman's jarred sauce since we haven't had quite enough tomatoes to make our own yet.  Out of the various "quick" sauces-in-a-jar I've tried, Newman's is my personal favorite.  However, I'm looking forward to the day when I can throw together a pot of homemade sauce with the tomatoes from the garden!
I grabbed a little sample packet of Parma at the Veg Expo and couldn't resist sprinkling some on the finished product.  I've always adored baked pasta, lasagna…anything pasta-like that comes out of the oven steaming and covered in hot pasta sauce.  There's something very comforting about dishes like that.  For me, there's a bit of nostalgia involved since we ate a lot of that sort of thing when I was growing up.  I'm glad to be able to put together the occasional vegan version.
Question for the comments: What's your favorite pasta dish, and why?