When fall hits the Northeast, it doesn't mess around.  We had a couple of days where the weather wasn't sure if it should still be summer or not, but now fall has well and truly settled in.  Which means one thing: time for soup!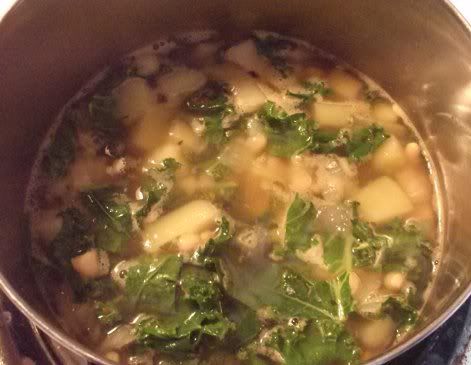 (Actually, it's also time for stew, casserole, and other warming foods, but soup does tend to spring to mind first.)  Enter potato kale soup from 1,000 Vegan Recipes.  I'm sure by now people are starting to wish I'd shut up about Robin Robertson, but I continue to love her recipes.  Potatoes and kale are two of my favorite things, and we just so happen to have both fresh from our garden.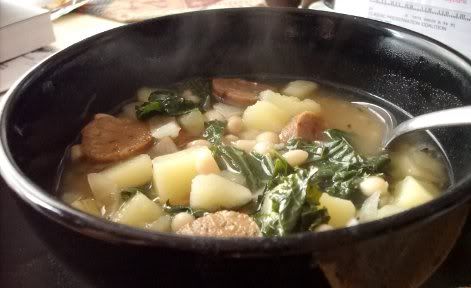 It's a pretty basic soup recipe that doesn't take a very long time to make.  Just some potatoes, kale, white beans, broth, onions, and a few seasonings.  The recipe suggested adding some sauteed faux sausage to round it out into a full meal, which I did wind up doing.  It was definitely a tasty combination!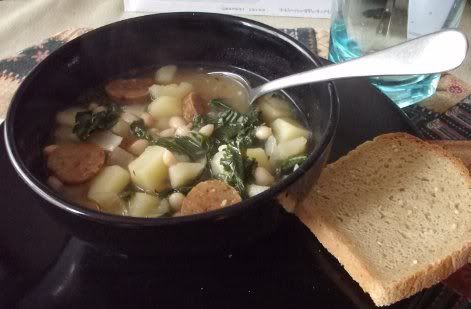 Strangely enough, despite the cool falls and frigid winters we get around here, I don't often make soup.  I think years of watching my mom put together hearty veggie soups that cooked all day ingrained the idea in my head that all soup has to take a long time.  I plan on trying to break that mindset this season so that I can feel free to experiment with the vast variety of soup recipes in my cookbooks!

Question for the comments: What's your favorite meal when the weather starts to get chilly?