Yesterday, I headed over to the Empire State Plaza in Albany for the 4th annual NY Capital Region Vegetarian Expo.  I went last year when it was held in Saratoga Springs and had such an awesome time that I couldn't wait to go back!  This year, I spent a little time volunteering at the greeting table with a few other lovely ladies, handing out programs and groovy biodegradable bags ("Compostable!  Made from corn!") to people arriving at the expo.
I went to so many tables and sampled and bought so many great things that I hope I can properly cover it here.  My first trip, of course, had to be to the table of the amazing X's to O's Vegan Bakery in Troy, NY.
I can't say enough good about their vegan treats.  What's in this picture is only a fraction of the amazing stuff they offer on a regular basis, both at their store in Troy and via wholesale at retailers throughout the Capital Region.  As well as everything being vegan, they do a variety of gluten-free baking.  I picked up my personal favorite, a cookies-and-cream "canoe boat" (which is basically an amazing vegan twinkie), two brownies, and a chocolate peanut butter cupcake.  I also grabbed a pumpkin spice muffin of theirs from another vendor when lunchtime rolled around.  I'll admit that the canoe boat became my morning "snack" and lasted about two minutes after I walked away from the table.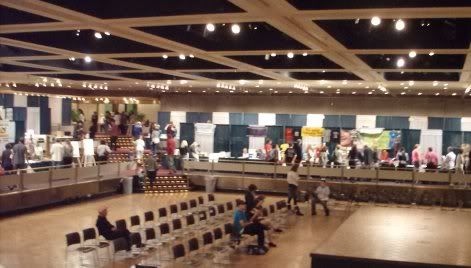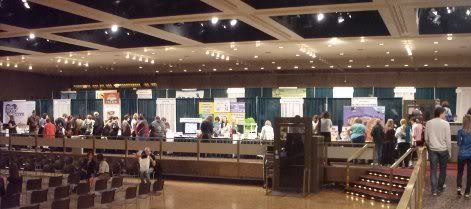 While roaming around, I tried samples from
and also stopped by the booth of the amazing, wonderful, not-enough-adjectives-to-describe-them Liz Lovely Cookies.
Not to sound like I'm selling, but if you've never had a Liz Lovely cookie, what are you waiting for?  I bake a lot of cookies, which means I eat a lot of cookies, and I've been a big fan of cookies for as long as I can remember…so I have a lot of cookie experience.  Liz Lovely Ginger Snapdragons?  One of the best cookies I've ever eaten, vegan or not.  And all of their cookies are vegan and as organic as humanly possible, plus they have a line of gluten-free options.  (Seriously, go to their website and find out where you can buy some near you.  If you haven't tried these cookies, you're missing out.)
Of course I loaded up on cookies (ginger snapdragons and gluten-free chocolate fudge), and couldn't resist buying an "I'm a Ginger Snapdragon" t-shirt.  Speaking of t-shirts, I also popped by Motive Company's table.  They're a local clothing company that offers some groovy vegan swag.  I picked up a light- and dark-blue striped shirt with a nametag design that says, "Hello, I'm Vegan," which is awesome since I've been looking for a fun vegan shirt for a while.
There was more food available than one person could possibly eat, but managed to eat quite a lot of it as I wandered.  Lunch was catered by Sodexo and Little Anthony's pizzeria, both of which have great vegan options.  Little Anthony's uses Daiya on their vegan pizzas and calzones, and it's beyond me why I've never eaten there since they're on the same street as the co-op!  I wound up having a tofu veggie sandwich and coffee for lunch, and followed that up with a veggie strudel from Vegan Creations. (They need a website.  The fact that they don't have one makes me sad because they're so full of awesome.)  I also grabbed six more of their cookies, since the ones I got at the Harvest Fest were long gone.
My last couple of purchases were non-food items, starting with some vegan hair care from Pure Elements Organic Salon.  Ever since I first got my hair layered, I've loved using a straightening iron on it.  The only problem with that is my hair is naturally frizzy and heat styling can fry it very easily.  I picked up a tube of a product that's supposed to help keep that from happening, and as an added bonus can be used to tame frizz on those days when it's nasty, wet, or humid here in the Northeast.  And I couldn't resist grabbing a couple pairs of earrings from Rainforest Seed Jewelry, since they were all beautiful and fair trade!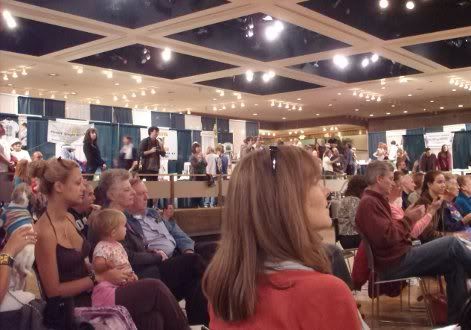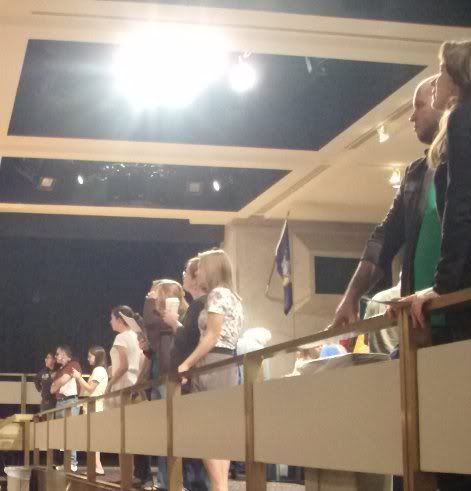 Next up was the vegan fashion show which, as you can see, drew a lot of attention.  I'm not really a "fashion" person, but I was interested in seeing what sorts of vegan clothing got featured.  I wasn't disappointed!  There were a variety of cute, fun, and interesting pieces from Vaute Couture, Cri De Coeur, No Harm, and Cherry Berry, and the whole thing was emceed by the lovely Mandi of Chic Vegan.  I was especially impressed by the peacoats for both men and women.  (As a side note, none of the models were professional–just people interested in sharing great vegan clothing!)
Right after the fashion show, it was off to my second volunteer assignment, assisting chef Kelly Serbonich with a demo on how to make raw pumpkin/squash pie.  My mom  has been talking about seasonal pies lately so I thought it was a nice coincidence to be able to watch someone prepare a raw take on a classic.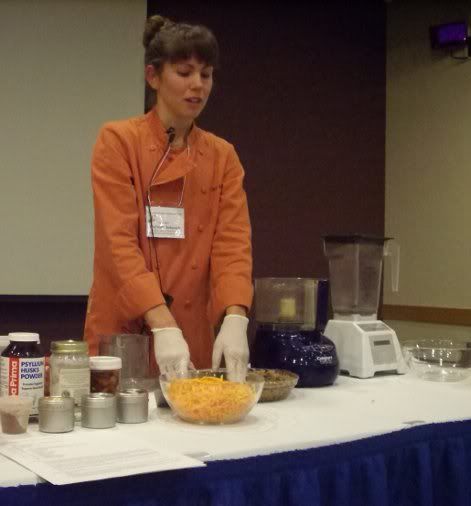 Having tried my hand at raw food in the past, I knew most of what she talked about, but it was great to be there nonetheless.  The entire demo room smelled like pie when she was done, and I got to help hand out samples to the raw-curious crowd.  I was glad to see a wide variety of age groups in the audience; it wasn't just young raw foodies.  In fact, there were a lot of older people who seemed intrigued by the concept of raw desserts and what foods could be eaten and enjoyed raw.
Kelly was a really nice person to chat with.  We got to talking after the demo about food and sharing vegan and raw dishes with people.  It was refreshing to be able to have a conversation with someone familiar with veganism and raw food, who enjoys it and enjoys cooking.  (She cooks for the Moosewood Restaurant, in case anyone was wondering.)  I wish I'd had enough money to buy her book, but by then I had blown through what I brought for the day.
Even without any money left, there was plenty of stuff to do.  I met a lot of nice people both while volunteering at the greeting table and while walking around.  I had a lengthy chat with the ladies at the Greyhound Rescue table; talked about yoga, veganism, and relaxation with the people from the Family Wellness Center; shamelessly recommended X's to O's and Liz Lovely to anyone who would listen; and even saw an old friend whom I've known since I was 5 and who I didn't know had gone veg.
On top of all that, I made repeated visits to what was the most incongruous, but certainly no less interesting, table at the entire expo, manned by the Northeast Paranormal Society.  I talked to them a bunch last year and must have either made an impression or a total fool of myself, because they remembered me and were willing to listen to me babble.  I also got a look at some of their photos and listened to some of the most impressive EVP (electronic voice phenomenon) that I've ever heard.  A bizarre display at a vegetarian event, to be sure, but still awesome.
To cap off the day, my mom came by the Expo for a while and we walked around together.  I showed her some of my favorite tables, and we got hung up at a groovy handmade jewelry vendor, Squiggles and Swirls (another person who should have a site but doesn't!).  Mom ended up getting some neat earrings which, as the name suggests, were made of wire bent into an inventive swirl pattern.
There were a ton of other vendors and speakers that I didn't get to spend time at.  It was such a great, extensive event, and I'm glad I got to spend a good portion of the day there.  I know I'll be enjoying all the great food I picked up (I've already dug into the X's to O's brownies), and can't wait to show off my new t-shirts.  I'm already looking forward to next year!  Big thanks go out to the Albany Vegetarian Network and all of the awesome local sponsors for making the Expo possible.