A few days ago, I went on a bit on Twitter about how much I love beets.  This strikes me as kind of funny now, because I never ate beets as a kid.  They just weren't something we had around the house.  I have vague recollections of trying them at one point, but they definitely weren't a fixture of the family diet.
A family friend gave my brother some beet greens a while back, which I decided I liked, and there are shredded beets in one of the awesome salads the local co-op makes, but I never considered cooking beets myself until I came across some lovely ones at the Harvest Festival.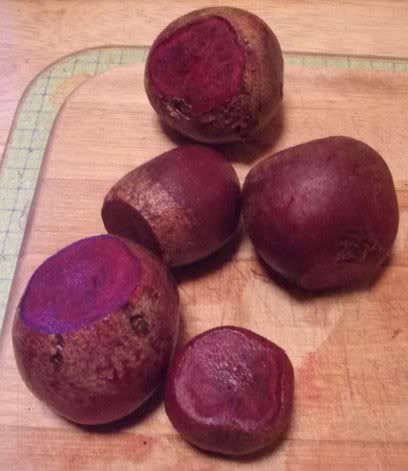 I only got a small bunch, but it was enough for a side.  All I did to cook them was wrap them up in aluminum foil and bake them in the oven at 400°F for an hour.  No seasonings, no sweeteners, just beets.
Usually if I make a veggie as a side, it's the last thing I decide on.  But this time all I knew was that I wanted to try those beets!  So it took a little poking around Veganomicon to find something to make as the "main course".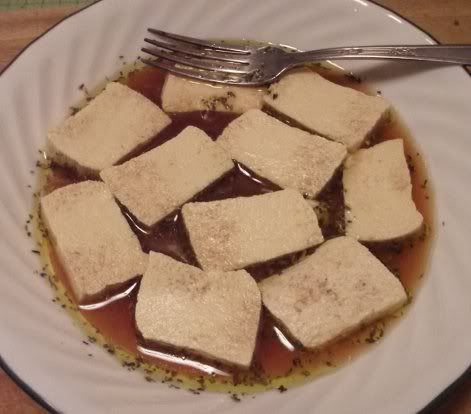 I settled on the Italian marinated tofu and set that soaking while the beets were cooking.  But I still wanted a grain to go with it all, and the meal seemed like it would be lacking without a green, so I added a third component to the meal. (I know, right?  The queen of the one-pot meal, cooking three separate dishes?)
Thus this recipe was born.  It's pretty simple and modeled after one of the variations on Coco Rice from 30-Minute Vegan.
Seasoned Rice & Greens
serves 2 as a side

Ingredients
1/2 cup long-grain brown rice
1 cup vegetable broth
2 cups kale, chopped
pinch basil
pinch thyme
pinch marjoram

Directions
1) Bring the broth to a boil.  Stir in the rice, lower the heat, and cook until the liquid is absorbed and the rice is tender, about 45 minutes.
2) In the last 10 or so minutes of cooking, dump in the kale.  Sprinkle with basil, thyme, and marjoram to taste and give the whole thing a quick stir before replacing the lid.
3) When the rice is done, remove from the heat and give it another stir.  Serve hot.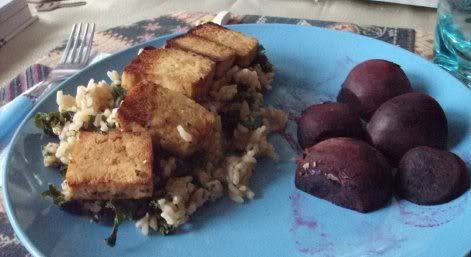 All together, it made a very delicious–and very pretty–meal.  The most important thing I learned?  Buy bigger bunches of beets.
Also…Happy World Vegetarian Day! How is everyone celebrating?