My mom has told me several stories about how my grandparents used to can their own vegetables.  My grandfather was an amazing gardener; he even grew grapes and made his own vinegar.  That side of the family is also very Italian, meaning a lot of tomatoes and homemade pasta sauce!
Apparently my parents used to can things, too, but I was too young to remember.  I have one vague recollection of pickles being made, but other than that I knew next to nothing about canning.  Usually I blanch and freeze veggies like green beans and kale, but now that the tomatoes are ripening at a rapid rate, it's time to start preserving them before they go bad!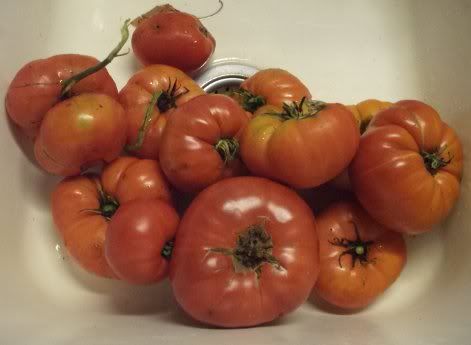 My brother gets the credit for how beautiful these are.  If there's such a thing as a gardening gene, he's got it.  Over the last several years, he's done a lot of reading and research on organic gardening, and our yields have increased dramatically.  These tomatoes definitely taste as good as they look!
Peeling them was easier than I thought it was going to be.  As per a few suggestions I found online, I cut an X in the bottom of each, blanched them in boiling water for about 30 seconds, then dunked them in ice water.  Sure enough, the skins slid right off.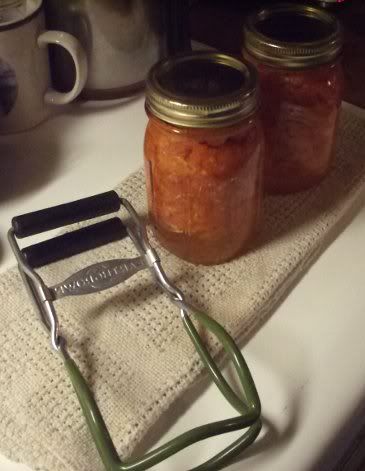 A lot of the recipes I love call for diced tomatoes, so I tried canning those first.  After doing some research (thank you, Google!), I improvised a water bath canner by tucking a vegetable steamer into a big pot of water.  There was a little snafu when I realized that the quart jars we have in abundance weren't going to fit in it, but I was able to find these pint jars instead.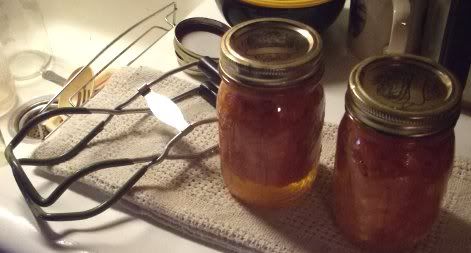 As you can see, it worked out rather well, especially for a first try at canning!  I processed them for 40 minutes, and they both seem to have sealed.  I can't wait to try them in something.
The rest of the batch was destined to become tomato puree.  Here are the tomato chunks, cooking down: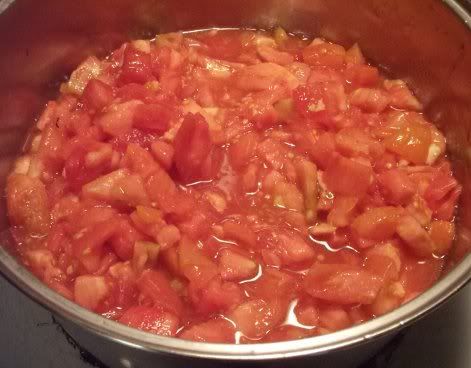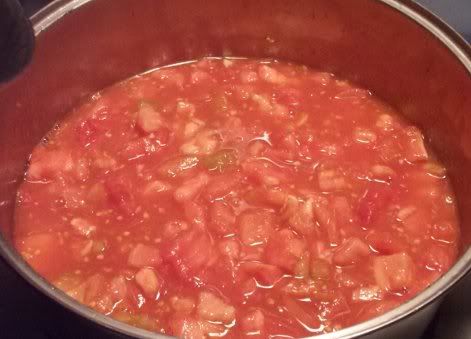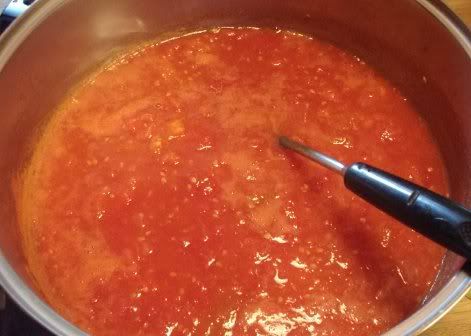 Since I was too lazy to seed them by hand, next up was the food mill to remove the seeds and tough bits.  I remember using this thing in the past for some reason, possibly when my parents were making pasta sauce after another big tomato harvest.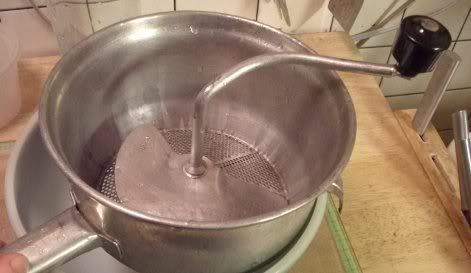 After that, the puree process is pretty much a bunch of cooking and stirring until everything reduces to the proper consistency.  That took several hours, but both the delicious aroma and the final product were well worth it.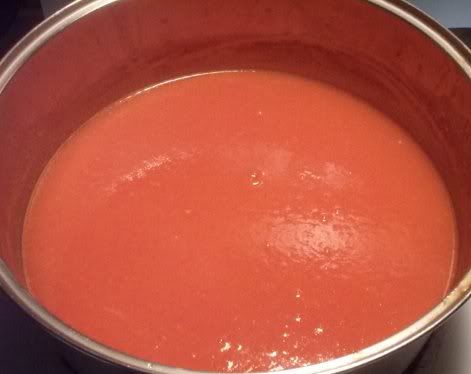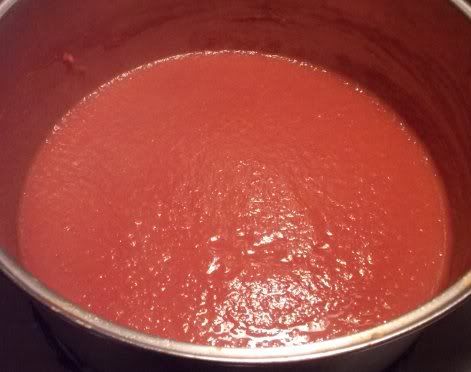 I couldn't find any more pint jars, so I had to freeze this.  I think it will keep well regardless.  I also put a little fresh in the refrigerator to use on pizza and the like!

Question for the comments: If you have a garden, how do you preserve your produce?