I'd heard about package swaps since I started dabbling in the blogosphere in its various forms, but had never tried one due to budget, time, etc.  But when a vegan care package swap popped up on Cook. Vegan. Lover., that sounded too good to pass up!  I love sharing food with people and have gotten even more passionate (read: crazy) about it since going vegan.
I was paired up with Helena over at Divine Health.  Her package came yesterday, and boy was it full of awesome stuff!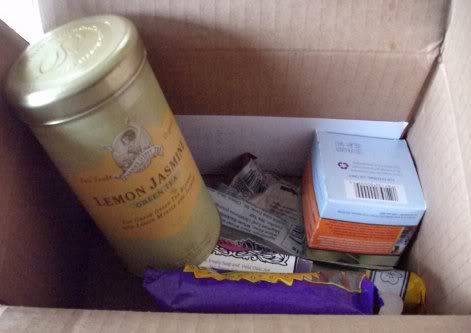 I couldn't wait to unpack it and see all of the goodies.  The fact that it was padded with bubble wrap made it that much cooler in my book since, like most people who are easily amused, I have a thing for bubble wrap.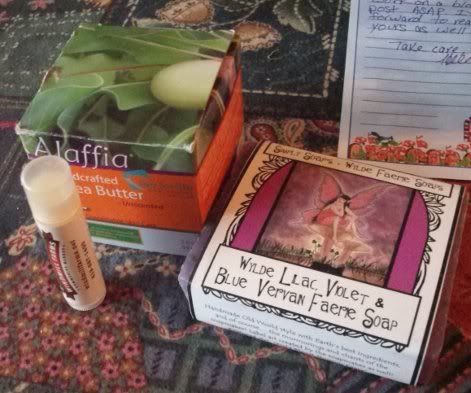 As I may have mentioned, I also have a thing for hand creams, soaps, and body care products in general.  The hand cream thing started as a necessity due to my perpetually dry hands, and it sort of turned into a quest to find the best moisturizer possible.  Thanks to the Harvest Fest, I've discovered the wonders of Shea butter, and this tub of hand-crafted, fair-trade stuff is going to come in handy!  The soap went right in my "specialty soaps" bag, and with the Northeast winter coming it's going to be imperative to have a good vegan lip balm around.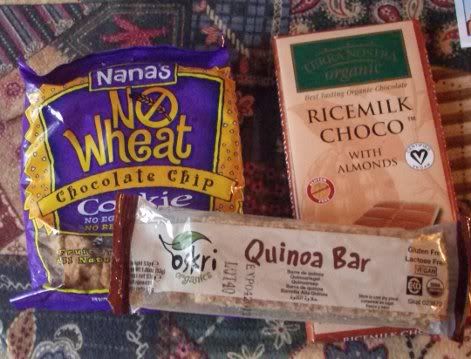 Dessert and snacks!  Who can argue with that?  A big gluten-free, vegan chocolate chip cookie (delicious!), a snack bar full of quinoa goodness, and…rice milk chocolate.  I haven't had anything even closely resembling milk chocolate in ages, and I love chocolate bars with nuts in them!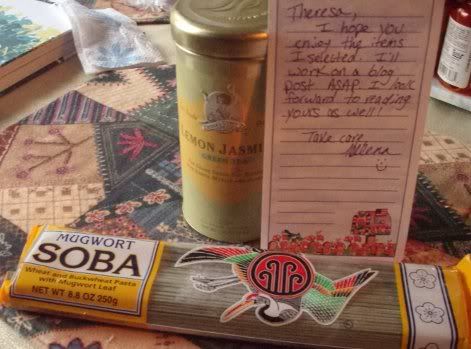 And to cap it all off, jasmine lemon tea, soba noodles, and a lovely handwritten note!  I tried the tea this morning at breakfast, and it was amazing.  Light green tea flavor with just a hint of lemon and jasmine…mmm.  And I'm looking forward to trying those soba noodles, since they're not just buckwheat–they have a bit of mugwort in them!  Stir fry, anyone?
I'm really glad that I decided to participate in this swap.  It's been great getting to know another member of the vegan community, and it's always fun to share vegan treats with others.  Thanks to Lindsay and Cook. Vegan. Lover. for hosting this!