I've probably mentioned that I love spicy food.  Salsa, curry, hot peppers…if it's spicy and vegan, I'll try it.  So of course when I saw the recipe for Spicy Mushroom and Hot Pepper Calzones in 1,000 Vegan Recipes, I knew I had to try it.
I took the opportunity to try making the dough with spelt flour, which is something I've wanted to try for a while.  It didn't work out quite the way I was intending.  One, the dough was more sticky than I expected; and two, it didn't rise as much as whole wheat dough does when cooked.  But the flavor was good, so I think I'll come back to it in the future and see if I can fix what went wrong.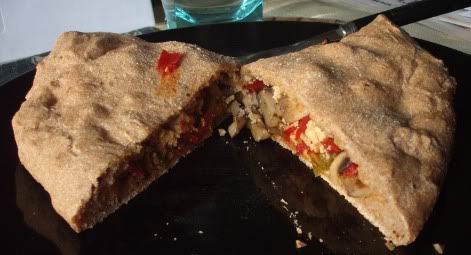 For the record…yes, these were spicy.  The hottest peppers I keep around the house for use in sandwiches and salads are banana pepper rings which, to me, aren't all that hot.  These calzones call for and entire 12-ounce jar of hot cherry peppers–which are hot.  Very hot.  Even reducing the amount for two calzones instead of four made an appreciably spicy finished product.
The rest of the filling was chopped white mushrooms, crumbled tofu, and a few seasonings.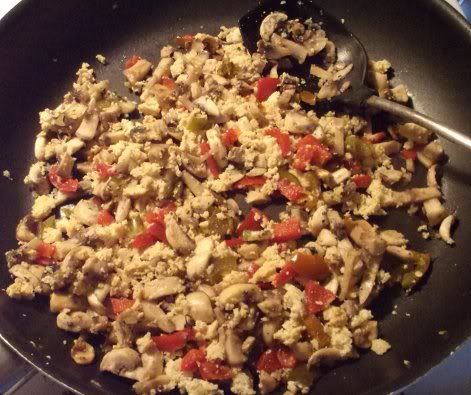 I liked the overall flavor of these calzones, but I think in the future I might scale back on the peppers a bit!  My mom dipped hers in marinara sauce, and that was also good.  I think spooning a bit over the top or even spreading some inside the calzone would be a tasty addition to the recipe.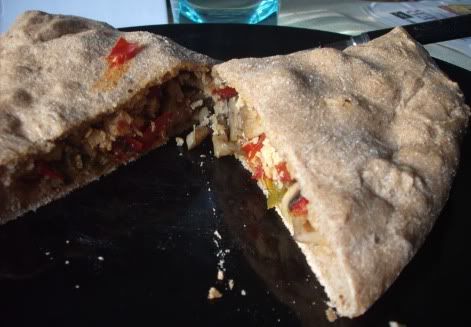 As a side note, I have still been working on that zucchini bread recipe, but I think it's going to turn out better as muffins.  I'll post as soon as I have it tweaked the way I want!
Question for the comments: Do you like hot/spicy food?  If so, what's your favorite?