'Tis the season for squash!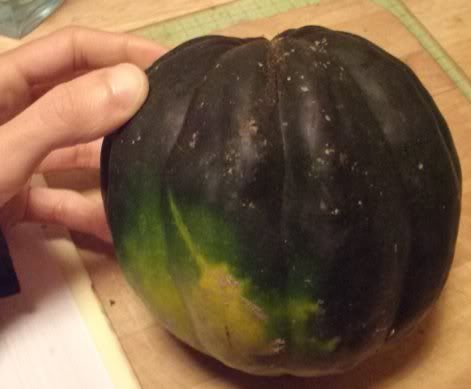 When I was at the Harvest Fest, I picked up this lovely acorn squash.  I'm a pretty big fan of squash in general, but I'd never tried the acorn variety.  Of course, there was only one thing to do with a squash this awesome…
While browsing for squash recipes, I came across one in 1,000 Vegan Recipes that included forbidden rice in the stuffing.  I just so happened to have some forbidden rice hanging around from a past co-op sale, but hadn't had a chance to try it yet.  So that's the recipe I went with–winter squash with forbidden rice stuffing!
I goofed a little the first time around and forgot to add water to the roasting pan when softening the squash, but a few extra minutes fixed that.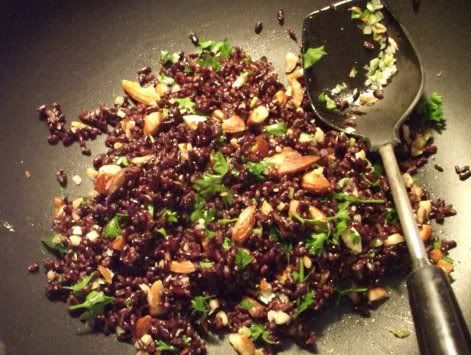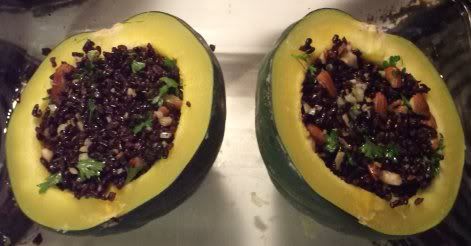 Aside from forbidden rice, the stuffing had garlic, ginger, a hot pepper (fresh from the garden!) almonds, and fresh parsley.  Everything got pre-cooked before being stuffed in the squash, then the whole shebang went in the oven for 45 minutes.  The extra work involved in making stuffed stuff is usually worth it, and this time was no exception.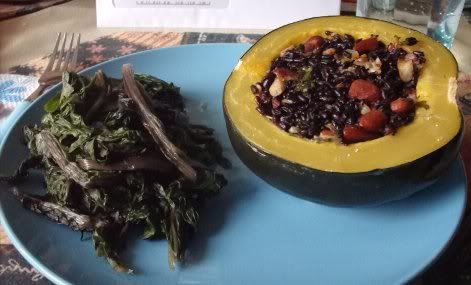 The squash was tender and buttery, and the stuffing was nutty both from the rice and the almonds.  It was so good that I went out and bought another acorn squash so I can make it again really, really soon.  I cooked up a little chard from the garden to go with it, and it was an awesome meal.
Question for the comments: What's your favorite veggie to stuff, and what do you stuff it with?