When I got my copy of The 30-Minute Vegan, the Monk Bowl was the first recipe that caught my eye.  It's one of those simple recipes that makes you wish you'd thought of it first.  Basically, it's a bowl of quinoa topped with steamed veggies and oven-roasted tofu cubes.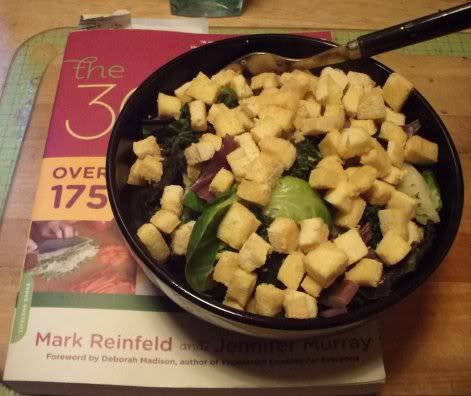 Simple, right?  But so incredibly delicious.  The best thing about it is its versitility.  The tofu gets marinated in a little soy sauce or liquid aminos and oil before going in the oven, and you can use any kind of oil depending on the flavor you're shooting for. (I used sesame this time.)  If you're not in the mood for quinoa, you can swap it out for rice or noodles.  And as far as the veggies go, anything that's in the fridge and tastes good steamed is fair game.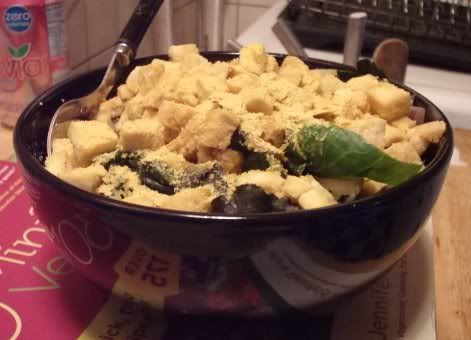 Since we have an absolute boatload of leafy veggies around the house right now, I loaded my bowl up with kale, red cabbage, beet greens, and quartered Brussels sprouts.  Then everything got a drizzle of flax oil and liquid aminos and a sprinkle of nutritional yeast as per the recipe suggestion.
Verdict?  Amazing.  Makes me wonder why I don't throw one of these together more often when I find myself alone for dinner.  It's pretty much the perfect one-person meal.  I think it would also be awesome with rice stick noodles and rice vinegar instead of quinoa and flax oil.
Today's kitchen antics: testing another loaf of zucchini bread and attempting to preserve some of the myriad zucchini that have been popping up in the garden!