A few weeks ago, a family friend gifted me with three beautiful heads of red cabbage.  As I've probably mentioned, I love cabbage, especially the red kind.  It's great to stir fry, on sandwiches, in salads, and as a wrap!  But three heads are a lot for one person to tackle, so I've been looking for inventive ways to use some of it.
Enter the Kim Chi recipe from 30-Minute Vegan's Taste of the East. I didn't even know it was in there until I started seeking out cabbage recipes.  And since I love Asian food as well as cabbage, I thought I'd give it a try.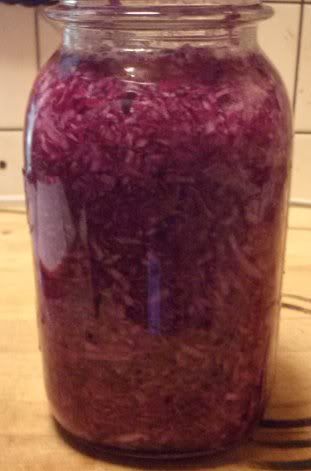 Using the food processor to shred the cabbage made it quick and easy, which was nice because the seasoning blend requires a lot of minced garlic and ginger, and I'm not a very fast mincer.  The rest of the seasonings were easy to put together: a little liquid aminos, miso, and agave nectar, along with a rather enormous amount of cayenne.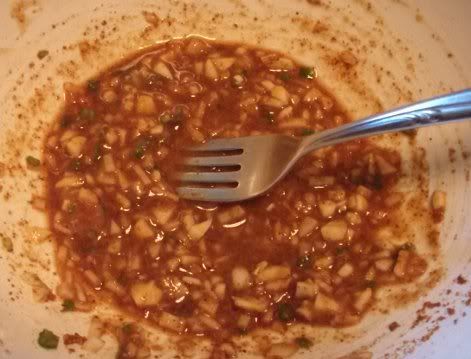 After the cabbage soaked in the jar with water and salt for an hour, I drained and rinsed it as per the recipe and mixed everything together.  I added a little bit of carrot, broccoli, and zucchini for color.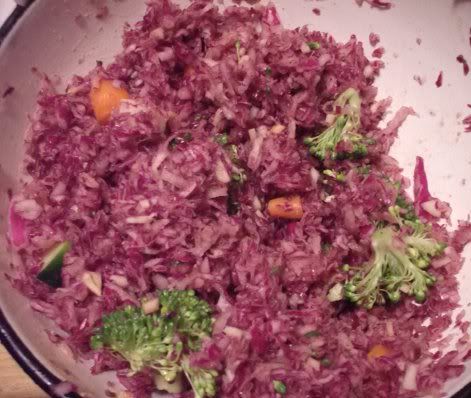 This is the first time I've tried making anything pickled, so I'm hoping it comes out good.  It smelled very interesting when I was putting it back in the jar…cabbage definitely don't have that strong of an odor when you slice it up by hand!  That along with the spiciness of the seasoning blend made for a pungent combination.  Now it all has to ferment for at least a month before I get to see how it tastes.
Question for the comments: What's your favorite thing to do with cabbage?