In the "I've really wanted to make this for a long time, but was always lacking one ingredient" category, 30-Minute Vegan's Jamaican Veggie Medley!
As per the cookbook's suggestion, I served it with a little quinoa and kale on the side.  This was a super-easy, tasty recipe.  True to the premise of the cookbook, it didn't take very long to prepare.  The tofu and veggies (mushrooms, onions, bell peppers, and cherry tomatoes) are cut large to avoid burning while broiling in the oven, and that cuts down a lot on chopping time.  I would definitely go for a longer broiling time next time, though; the tofu wasn't quite as crispy as I would have liked.
I think I've mentioned that I love anything jerk spiced, too, which made this pretty much perfect.  Cinnamon, cloves, cayenne, ginger, etc. isn't a combination that turns up in a largely Italian kitchen, even if you cook as much as my family has over the years.  Out of all the things I've tried since going vegan, jerk spice blends are definitely one of my favorites!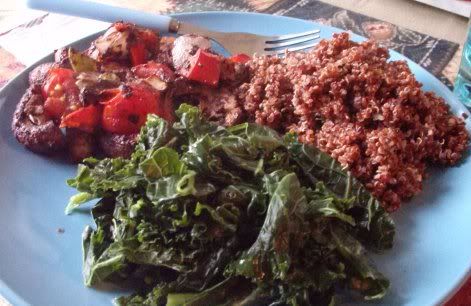 I added a little liquid aminos and nutritional yeast to the quinoa and left the kale unadorned save for a light sprinkle of salt.  All in all, it was a tasty, easy meal that I would make again!  (In case you were wondering, the one ingredient I always seem to lack is cherry tomatoes.  We rarely have them around, but someone at church had an excess last week and we wound up taking some home!)