Summer seems to be exiting the Northeast early this year, much to my dismay.  A week and a half ago, I was walking out the door in tank top and shorts, and all of a sudden I need at least two layers and a wool coat to avoid freezing my butt off!  It's not that it's cold, per se, but that it went from unseasonably warm to unseasonably cool in the span of about ten days.
That said, the one thing I really enjoy about cooler weather is hot food.  Soup, stew, organic ramen, coffee, tea…anything warmer than the air outside.  Now that fall is rolling around, I intend to pull out a ton of soup and stew recipes, along with things like my favorite veggie loaf ever.
Take this, for example:
Robin Robertson's Moroccan Chickpea and Sweet Potato Stew from 1,000 Vegan Recipes.  As I've mentioned before, I'm an absolute sucker for sweet potatoes in pretty much any form.  This is a recipe I've skimmed multiple times before, but I always passed it up due to a lack of fresh green beans.  Fortunately, the garden is putting out its fair share of green beans, so last week I snagged myself a sweet potato and went to town with this stuff.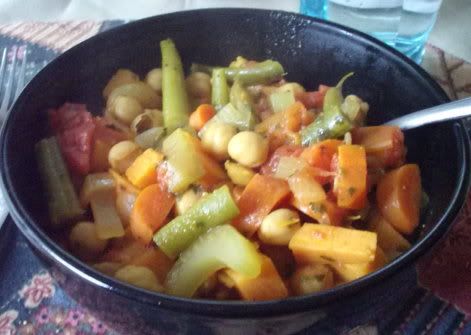 I love Moroccan-style spice blends.  Cinnamon automatically makes anything feel warming, and it made a nice compliment to the natural sweetness of the sweet potatoes.  I had some couscous left, so I cooked that up and served the stew over it.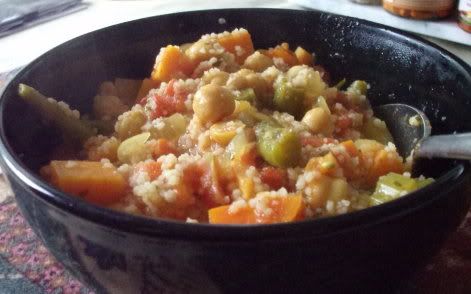 Although I tend to make a ton of one-pot meals anyway, there's something particularly satisfying about serving up a hearty stew like this after a cool and dreary day.  I love how it makes you feel all warm inside.

Question for the comments: What's your favorite dish to make once the seasons turn to fall?