Is anyone else already excited for Vegan MoFo?  Not that I want it to be October yet, but it popped into my head the other day that the Vegan Month of Food is coming up fast.  Last year I scared up an old blog to use for the month, but this year I'm looking forward to being able to use the Quantum Vegan blog to celebrate all the great vegan food out there.  Anyone else cooking up Vegan MoFo plans?
I'll tell you what else gets me excited: soba noodles.  I seem to recall mentioning this in the past, but it bears repeating.  I can't walk through an international or Asian food aisle at the store without stopping to look at something, and more often than not I wind up making an impulse noodle purchase.
So with soba in the cabinets, it was kind of hard to resist making this: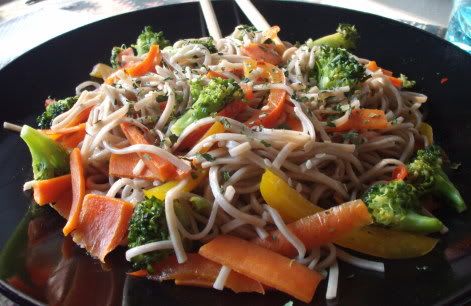 Broccoli and Red Bell Pepper Soba from The 30-Minute Vegan's Taste of the East!  Wow was this stuff good.  There was a lot of sesame oil involved, and some red pepper flakes, and a little garlic…the sauce was light and delicious.  This is the sort of thing that I dig into with chopsticks and don't come up for air until it's gone.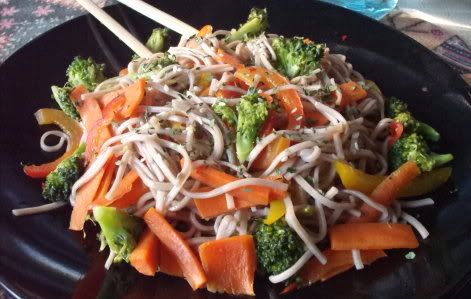 A lot of the recipes in Taste of the East are a little more exotic than I'm used to, so I haven't tried a lot of them out yet.  This one was more accessible in that I didn't have to make a special trip for any of the ingredients.  I would definitely make this again, and I'm looking forward to trying some of the recipes that WILL take a trip to an Asian or Indian market to complete.
Question for the comments: What's your all-time favorite type of noodle, and what dish do you use it in most often?