Vegan pizza strikes again!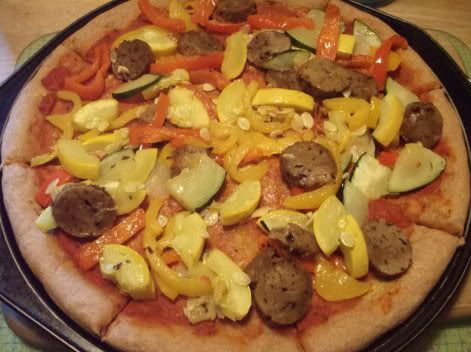 I have to admit, even though I love Daiya as a treat, this is my absolute favorite pizza recipe.  The basis for it came from the Vegan Express cookbook, and it's as versatile as the veggies in your fridge!
The original recipe calls for peppers, broccoli, zucchini, and soy sausage.  We were out of broccoli, so I used summer squash instead, as well as the last link of homemade seitan sausage.  The dough is the same as I use on all pizzas–Robin Robertson's basic pizza dough recipe from 1,000 Vegan Recipes, made with whole wheat flour.  Yesterday was an awesome day to make pizza, too, since the sun was out and there were plenty of warm places to let the dough rise!
To assemble the pizza, all you do is prepare the crust as if you were going to make a traditional pizza, spread it with sauce and whatever else you you feel like having (I added nutritional yeast), and pre-cut the slices.  While you're doing that, the veggies and sausage get cooked in a roasting pan at 425ºF with 1 1/2tbsp of olive oil.  Then you stir the veggies, pop the crust in the oven, and cook the whole lot for about 12 minutes until it all looks done.
Dump the veggie/sausage mixture on the crust, and voila!  Tastiest pizza ever.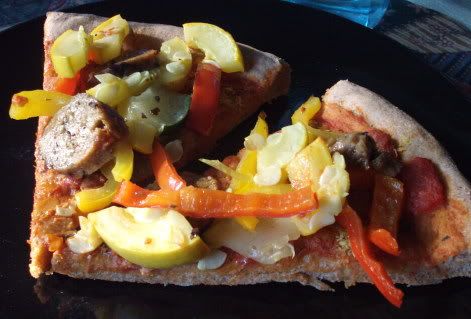 Question for the comments: What's your favorite pizza veggie combination?  Do you pre-cook the veggies, cook them on the pizza, or toss them on raw?