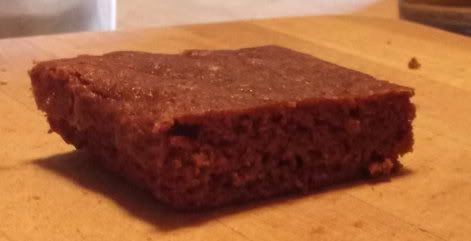 Returning from mini-vacation brought a return to the kitchen for this chocolate-craving vegan!  Though my mom and I had some tasty vegan baked goods (and found a fantastic price on Liz Lovely cookies), I've been itching to bake something of my own.  Thus, I returned to what has become my go-to vegan brownie recipe from Vegan Cookies Invade Your Cookie Jar.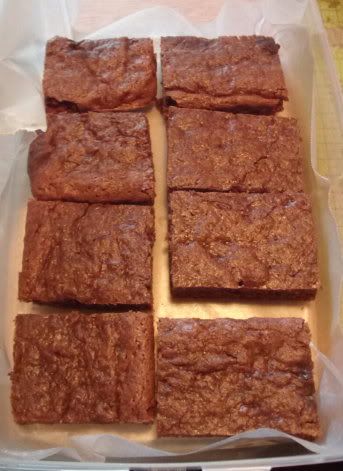 The espresso chocolate brownie recipe is awesomely versatile, and this time I made it without any extra flavoring at all.  No espresso, no mint, just straight-up chocolate.  I overbaked them a little so they're more cakey than fudgey, but they're still amazing.  Love this recipe!
The rest of our stay in Northampton, MA was great.  We hobnobbed with various friends at Esselon Cafe, which has amazing coffee and a ginger tea that makes you sweat after one cup.  I didn't get a chance to try their food, but they do have vegan and gluten-free menu items, including tofu scramble for brunch!
I got really excited at the prospect of visiting a new raw food place called Karma, but alas they weren't open yet.  But a look at their menu tells me it will be necessary to visit Northampton again just to try their food.  I've never eaten at a raw cafe before, and I'm stoked at the prospect.  Their prices seem pretty reasonable, too! (UPDATE: Unfortunately, Karma closed for good in 2012. You can still find them on Facebook or check out my review to get an idea of what they were like.)
Both my mom and I visited Cafe Evolution again (and again, and again) for lunch on Thursday and brunch the following morning.  One of the Thursday specials was a black bean apricot burger with ginger beet relish, served on their in-house bread with a bunch of fresh veggies.  I didn't get a picture, but let me tell you…YUM.  The flavor combination was perfect–savory black beans, chunks of sweet apricot right in the burger, and a little zip from the relish.  I'm surprised I didn't wind up with beet-colored stains on my hands from trying to sop up every last bit!
Good as everything we ate on vacation was, I was ready to cook again last night.  I've gotten so used to making dinner for the family that I get to missing it after a while!  Out came Vegan Yum Yum and a particular favorite of mine when I feel like cooking something easy and comforting.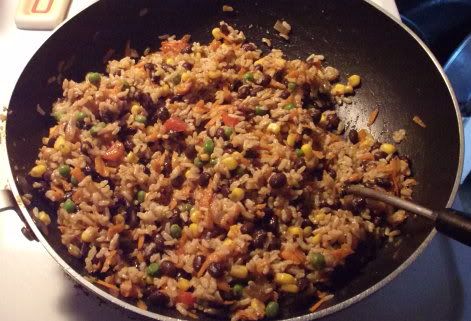 Rainbow beans and rice!  Again, a versatile recipe.  I've made it straight from the recipe, with added red peppers (as in the photo), and with broccoli and summer squash instead of peas and corn.  I get a kick out of shredded carrot, too, which makes it that much more fun to cook.
Question for the comments: What's your favorite warming/comforting dish to cook?  Is it inherently vegan or an adaptation of an old favorite?