It would seem that my mom and I would have been hard pressed to find a cooler place to go on our mini-vacation.  Northampton, MA is full of all the fun little eclectic places we like to check out!  It's home to WEBS yarn shop (which does stock vegan fibers), a bunch of historical locations and museums, used book stores, coffee shops, and vegan/veg-friendly restaurants!
Yesterday we had lunch at Cafe Evolution, which I found thanks to Happy Cow.  From the second we pulled into the parking lot, it was the kind of eclectic that I love.  Located in a building that at first appears to be a hole in the wall, the interior of Cafe Evolution offers a pleasant surprise.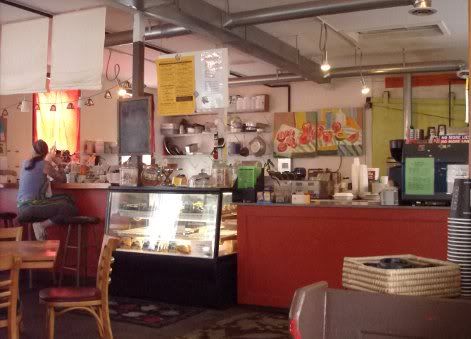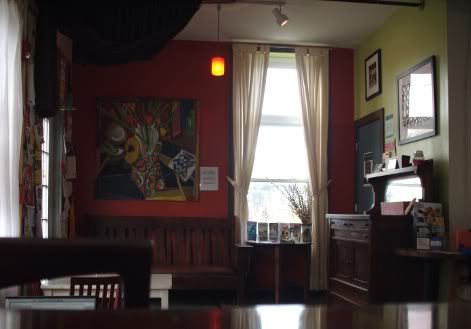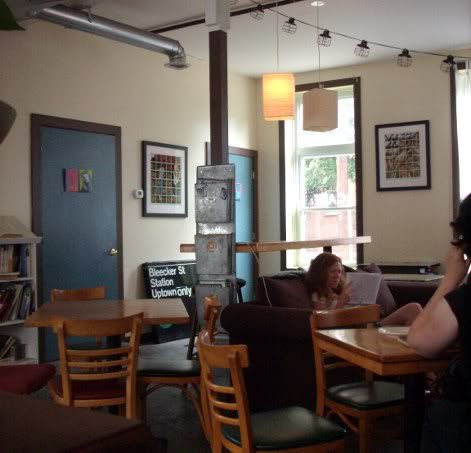 The atmosphere is relaxed and friendly, and so are the staff!  We had no problem ordering our food, finding a comfortable booth to sit at, and of course grabbing a tasty baked treat for dessert.
The menu is simple, but full of delicious vegan fare.  My mom and I both got sandwiches, which are served on bread that is baked in-house along with blue tortilla chips and homemade salsa on the side.
Mom's Fakin' Bacon BLT: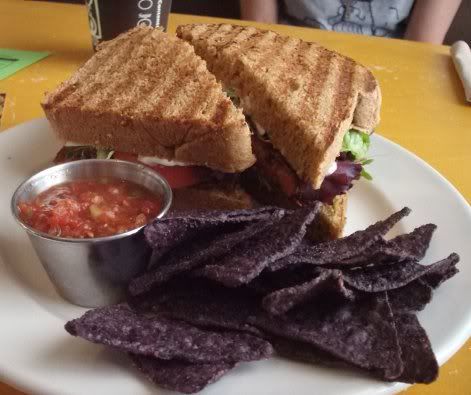 My baked tofu sandwich: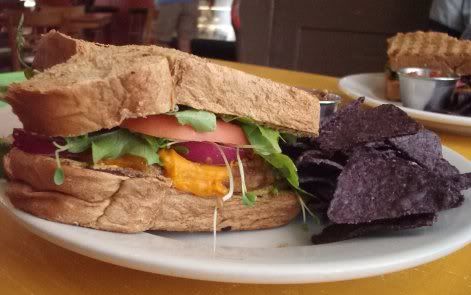 Both sandwiches were lightly toasted and just plain amazing.  Mine was so chock full of marinated baked tofu, vegan cheddar, and fresh veggies that I ate one half at lunch and saved the other half for dinner. (It was just as good cold.)
And, of course, the baked goods…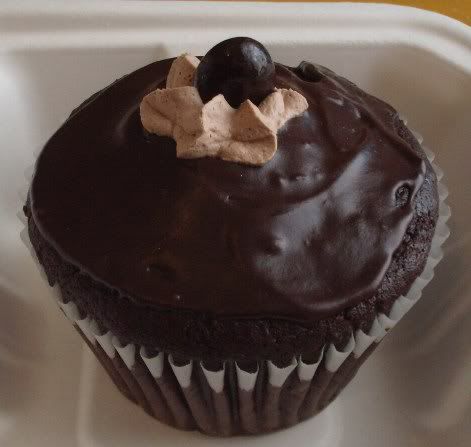 I am a sucker for good vegan baked goods.  That's why I make so many of them myself and pick them up whenever I encounter them out somewhere.  This was a "mocha moose" cupcake–a moist chocolate cupcake with mocha cream filling and chocolate frosting.  It was rich and decadent, with nostalgic undertones of a Hostess cupcake…only much, much more amazing!
The prices for both menu items and baked goods were comparable to other vegan places I've eaten–cheap for the portion sizes.  Sandwiches start at $6.95 and the most expensive menu item is $9.95.
Verdict: Cafe Evolution rocks.  If for some reason you have a problem with the type of eatery where you order at the counter and they make your food fresh for you right where you can see it, and it arrives hot and delicious in a reasonable amount of time, you won't like it.  But for the rest of us, it's the perfect place to grab a delicious vegan bite to eat in Northampton.