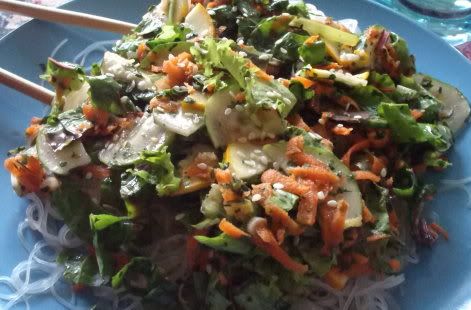 As I mentioned the other day on my Twitter feed, this month marks my first full year of following a vegan diet!  I intend to blog more fully about that in the near future, since I find it pretty exciting, but for now it's all about the food.  Pictured above is a rice noodle and mixed greens salad from a recipe in The 30-Minute Vegan.  One word: YUM!  I was looking for a quick and tasty dinner for my brother and I on Sunday night, and this won out.  I even popped by the store especially to get some rice stick noodles.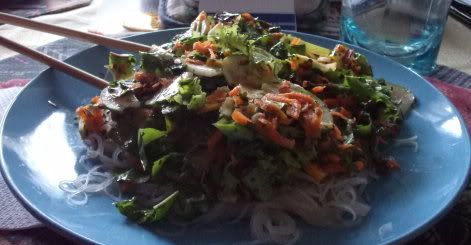 The concept is pretty basic: greens, cucumbers, green onions, shredded carrots, a few herbs, sprouts (which I lacked, so I tossed in some diced summer squash), and a simple dressing over rice stick noodles.  It's kind of like a mostly-raw stir fry, or an Asian-fusion noodle salad.  I'd definitely make it again, though I think I would invest in fresh herbs to get the full effect of the flavors.
Tonight was a "lazy vegan" night.  Again, I took a cue from 30-Minute Vegan and went buffet-style with some burritos.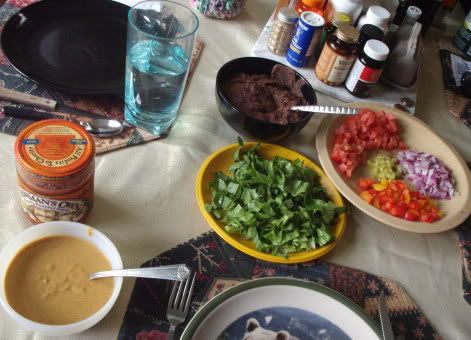 I had some decent canned refried beans hanging around from the last time they were on sale at the co-op, so I heated those up and made some of the nutritional-yeast-based cheese sauce I've grown fond of (also from 30-Minute Vegan).  On top of that, I chopped red onion, various colored bell peppers, tomato, hot peppers, and garden-fresh lettuce.  And there was salsa, of course!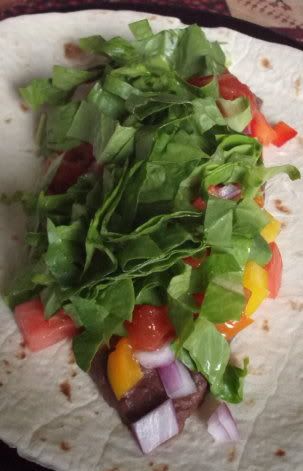 It was nice because my mom, brother, and I could all dig in and take whatever we wanted.  I was reminded a bit of my pre-vegan days when we did the occasional taco night along the same lines.  I think this would also be fun to do with either tortilla bowls or organic tortilla chips, preferably the blue kind!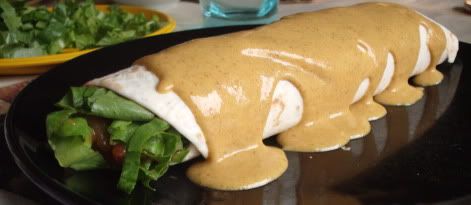 That's it for now.  My adventures in the kitchen are going on hold for the next few days while my mom and I go on our mini-vacation, but I'm going to try and blog anyway!  Tomorrow we're planning to check out Cafe Evolution.  If I can, I'll write up a review.  If not, look for it when I return on Friday.  Happy eating!