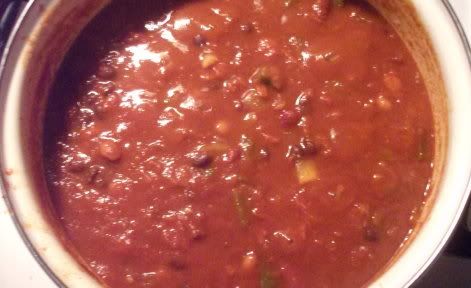 Yes, it's the return of the big red one-pot meal pot in the Quantum Vegan household!
If you've read the blog in the past, you've probably noticed that I'm a big fan of one-pot meals.  For various reasons, I'm not so keen on making multiple dishes at once, even if doing so makes sense.  So it's pretty unusual when I make a big pot of something and a side to go with it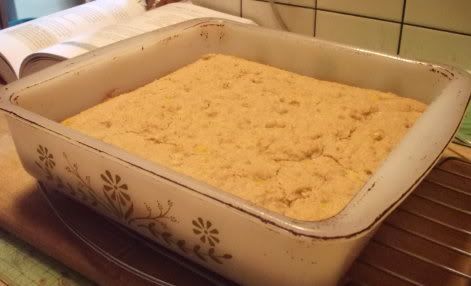 However, this particular chili recipe (thee-bean chili from Vegan Planet) suggested serving it with cornbread, and the idea sounded so delicious that I couldn't resist.  This cornbread is from 1,000 Vegan Recipes, making dinner a Robin Robertson double feature.  This was the first time I made cornbread with actual corn kernels in it, and it was completely awesome.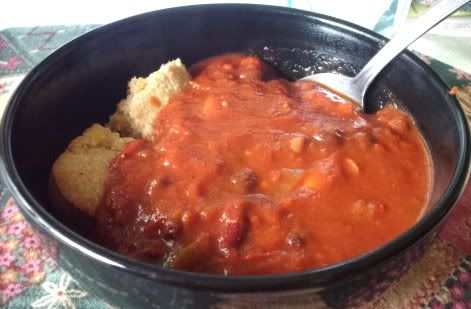 I dumped the chili and the cornbread right in a bowl together, which turned out to be a great idea.  Sweet cornbread, spicy chili…mmm…
I must have tired my cooking muscles out after that or something, because the next night I went the easy route and pulled out a recurring (but really quick to make) favorite recipe: lime peanut noodles with seitan and kale from Vegan Yum Yum:
I blogged about this one back during Vegan MoFo.  My mom and I pretty much became addicted to it the first time I made it, and now it pops up whenever there's fresh kale to be had.  It comes together in about fifteen minutes if you're quick at chopping things up.  And let's face it–if you like peanut butter, it's hard not to be a sucker for peanut sauce.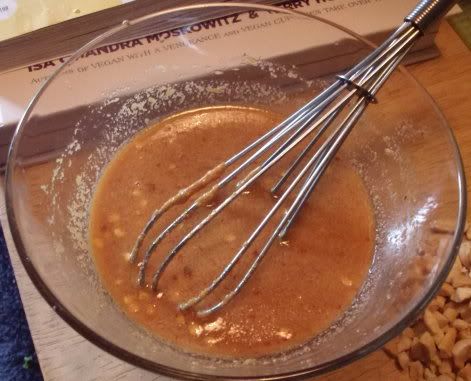 The recipe also calls for a splash of lime juice and some dried chilies or crushed red pepper flakes, which give the sauce a nice zip.  I used fresh homemade seitan (because I've been that busy in the kitchen) and it turned out quite nicely.  And…kale.  What more needs to be said?