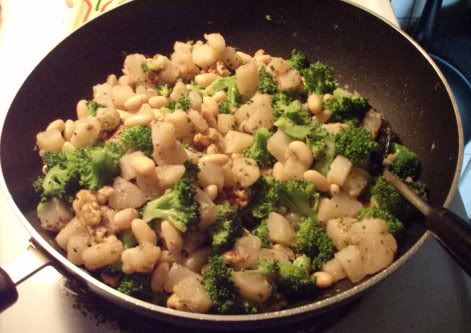 This is one of my absolute favorite "non-traditional" recipes that I've discovered since going vegan.  It's a medley of potatoes, white beans, broccoli, and walnuts cooked with olive oil and drizzled with lemon juice; essentially a bunch of stuff I wouldn't have put together on my own.  I found it in Robin Robertson's 1,000 Vegan Recipes, which is just as awesome as her other cookbooks and has been offering me new and interesting recipe experiences ever since I received it as a Christmas gift.
This dish is a great combination of flavors and textures.  The tender crispiness of the broccoli, the softness of the potatoes and beans, and the crunchiness of the walnuts make it fun to eat.  The beans take in a lot of the lemon juice flavor, and there's a little crushed red pepper giving it all a hint of spiciness.
Then the other night, I did a little experimenting with pasta and homemade faux sausage.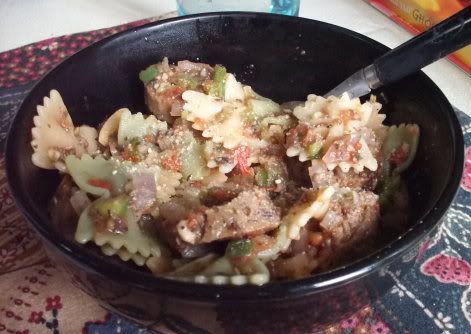 I was going to post the recipe, but it didn't come out quite the way I wanted.  What I did was toss some fresh tomatoes (from a local farm stand!) in the food processor along with some garlic, then pulsed red onion, mushrooms, and green pepper until they were pretty well minced.  The whole thing was a little too thin and didn't thicken up as much as I expected when I cooked it.  The flavor was just about what I was aiming for, though, so I think I'll keep this one in mind to work on.
As a side note, I really like that bow tie pasta.  They're organic tri-color noodles that I get at the local co-op from time to time in bulk, and boy are they good!
Not much else going on in the Quantum Vegan kitchen right now.  I should get on the stick and make more seitan, and there are hot peppers in the refrigerator that should be preserved somehow.
Speaking of, does anyone have a good, definitive recipe for refrigerator pickles?  I've been looking around the internet but haven't been able to find much agreement among recipes and suggestions.  I think pickled peppers would be awesome.